In my effort to continue the work essentials I have come to LOVE (yes, that's right. these products make me unleash the power of my caps lock button), here is a list of eye make-up that make the day prettier.

L'Oreal Lineur Intense in Carbon Black
This is such a gem by L'Oreal. My friend calls the depth of the black liquid liner almost 'paint-like' and I can't agree more. It's a rich, intensely black liner that stays on for more than 10 hours. The felt-tip applicator really makes getting control over the liner easy; I can make a thin or a thick line with the least amount of effort possible. It's also extremely gentle on the eyes as I can even tightline my eyes with it. The Lineur Intense is such a great buy that I don't really see the need to purchase the colour equivalent of Lancome's Artliner.
YSL Effet Faux Cils
I tried so hard not to fall in love with this mascara but it's impossible. I've worn enough false lashes in my life to know that no mascara will ever reach such rapunzel-ian lengths, but this mascara is pretty fantastic. With just one swipe, I get thick, long bambi lashes. The formula is very wet in the beginning so be careful as it will smear onto your eyelids when you apply. As the mascara gets older, it seems to clump on me more. However, just wash the wand in hot water and you'll be back to madly in love with this mascara. I mean, it's a deep, glossy black that makes my lashes look divine and doesn't flake or smear all day. What's not to tumble hopelessly in love with?
This is another great, less wallet-intensive love of mine. This gives me great separation, length, and volume. It's not as dramatic as the YSL mascara, but it's a winner in its own right. The wand separates my lashes and emphasizes every one (even the tiny ones on the inner corner). The formula is the right consistency and wears like steel during the day. I like it to its dramatic counter part, Lash Blast, because it doesn't weight down my lashes or make them break off. By far my favourite drugstore mascara.
Bobbi Brown Long Wear Cream Shadow in Sandcastle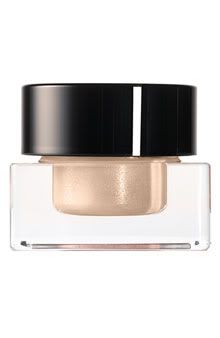 Here's a shocking truth about me that doesn't involve the number of blushes I own: I hate eye-shadow primers. For some reason, they always dry out my very oily eyelids and make me look like I spent years trying to gain wisdom but, alas, only ended up with crepey eyelids from thinking deep thoughts. I like to use a good cream shadow that will hold my eyeshadow in place instead. Bobbi Brown's cream shadow in Sandcastle is a more sophisticated shade of my lids and is a great primer. I pat it on in the morning with my MAC 242 brush or my fingers if I'm feeling lazy and then apply shadow. My eye make-up lasts as long on me as it does when I use Urban Decay's Primer Potion and my eyelids look less like I am trying to recreate a rugged desert landscape.
image sources:
www.nordstrom.com
,
www.sephora.com
,
www.dugstore.com