I just got back from India and my skin, no my body, was in a state of shock at the cold weather. As usual, I went back to relying on my faithful items that I knew would keep my skin calm. So if you're cursing at the weather and the divine powers that be are playing a cruel joke on your hopes of it ever becoming warm again, here's a list of some of my tried and tested favourites.

Honey and milk mask. I massage my face with this mixture now and then, leave it on for 15 minutes, and rinse it off. My skin feels so much less dry and stretched afterward.

Bliss' An Ounce of Prevention PM is a great nighttime moisturizer that treats flaky skin. You don't need to use a lot of the cream so one pot will last you a while.
Neosporin and Carmex. I have the driest lips in the world. Peeling, flaking, bleeding, you name the ailment and my lips have already exhibited that symptom. One of the few strategies that works is a mix of neosporin, which heals chapped lips, and carmex, which softens my lips and keeps them that way.



Clinique's All About Eyes. I don't like th richer version of this cream as it gives me milia, but in the cold weather and biting wind, All About Eyes is a staple that hasn't let me down yet.


La Roche Posay's Toleraine Riche. I know I've raved and raved about this before but it's the gentlest, most calming, soothing moisturizer that I have found. It doesn't have any amazing anti-aging properties but it's so uncomplicated that it gets the job done.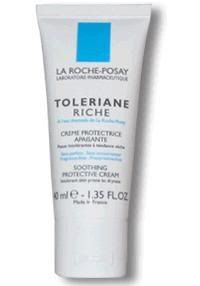 Lush's Angels on Bare Skin. I use this to exfoliate gently every 3 days after using my regular cleanser. It smells delicious and calms my skin.



Neutrogena's Norwegian Formula hand cream. This is another staple that I have been using for years and always seems to do quick and effective.



image sources: www.drugstore.com, www.lushusa.com, www.macys.com, www.laroche-posay.com