I lied, my bag is bigger because I can always put a book in there so I am constantly reminded that I need to study. So far this strategy is failing miserably. I don't remember who it was that asked whether I could do a 'what's in your handbag' feature but here it is. A century too late and I weeded through things so I didn't have an overwhelming amount of make-up in there.

My dad got me this brown bag thinking it was a bag for my laptop. Men really have no indicators for the function of fashion but I loved the bag. I'm not much of a bag person. I get one and use it to death (clothes on the other hand is a different story), so you're lucky my bag isn't tattered to bits. People around me always beg that I a. never carry a tattered handbag and b. get rid of my (in their opinion) stupid fishing hat. So I'm all scrubbed up for you.

Here's a top view of the goods. It looks empty doesn't it?




Well, your eyes tricked you. Here's the goods in my bag: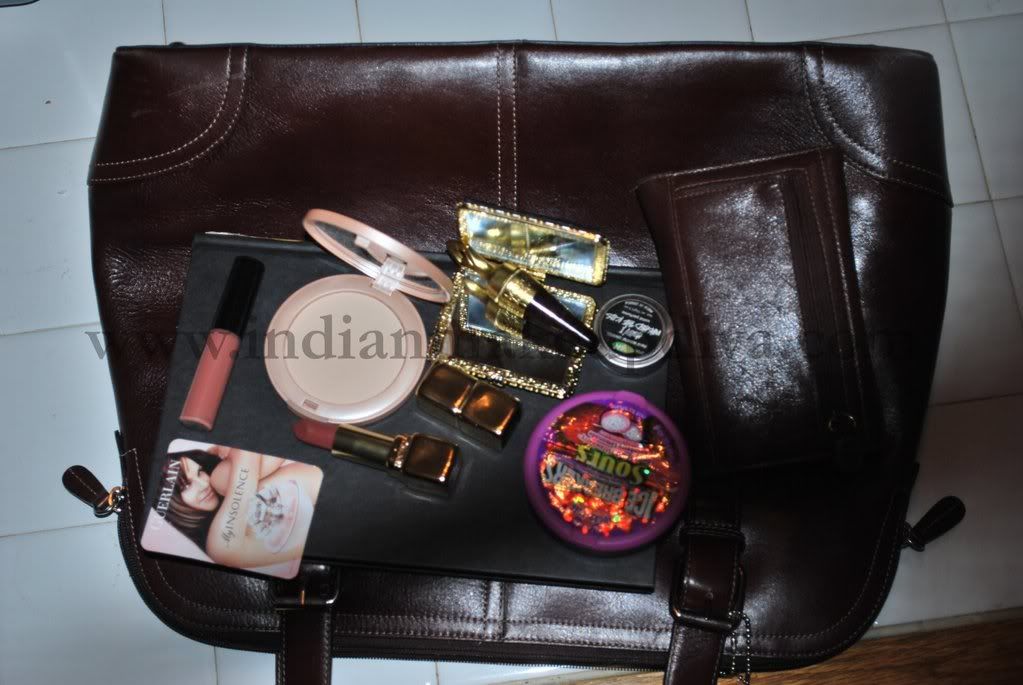 My textbook.

It's called Purity in Exile and I doubt you'll ever want to read it.

Pout Translucent Powder.

Saw it on sale for $5 at Pure Beauty and picked it up. Works very well and keeps the oilies at bay.


MAC Lust lipglass.

I'm on my way to finishing this one. I always carry it around since it's such a safe shade.

Guerlain Kiss Kiss lipstick n Terre D'Amour.

The most wonderful, light, moisturizing formula and the most perfect nude for my lips ever.


A sample of Geurlain My Insolence.

Not too overwhelmed by this but then again I'm all about the Lush Honey Washed the Kids perfume.


A mirror.

My mother gave me this and I carry it around in case of emergencies.

Guerlain Terracotta Loose Kohl in Noir.

It's surma that's lead free and almost as black. I wish I could find a cheaper alternative but I love the long lasting, smudgey, dark look I get with this one. Sadly, there aren't too many loose kohls besides this on the market. I can't find the Sally Hansen one anywhere to save my life. However, I do adore the Guerlain version and use it day and night.

Lush Honey I Washed the Kids solid perfume.

This is my signature fragrance and I will never be able to get enough of this.

My wallet.

Pathetically light and unspectacular.

Ice Breakers Sours (berry flavour).

I love the berry version but shied away from trying it because I associated all things Ice Breakers with that annoying commercial featuring Hillary and Haylie Duff. I love them, but that commercial was awful.