I was out and about the other day, not even looking to the world for inspiration and randomly walked into a boutique in Houston (Carmaa, for those in the know) and had a coronary. The best thing about vacation is surprises like this. I just about had a coronary when I discovered the owner had several Indian magazines. After performing CPR on myself, I asked the owner whether I could take photos of the magazine articles and she was kind enough to oblige. So here's Part 1 with Kalyani Chawla. I have no idea who she is, but if she's good enough to be featured in Vogue she's good enough for me.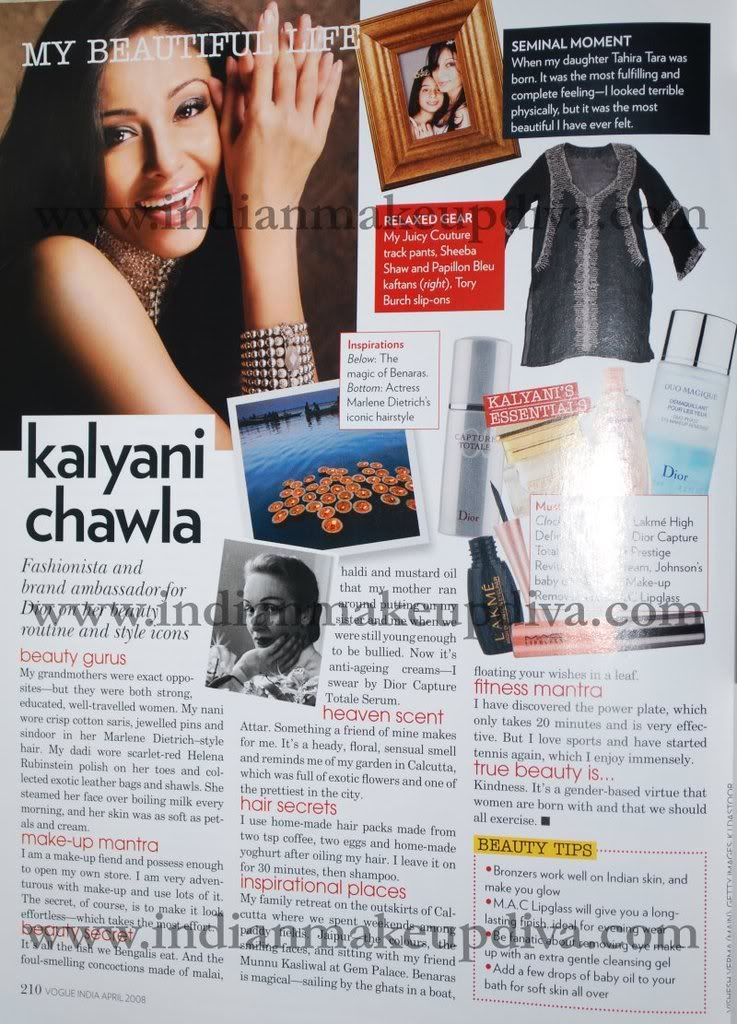 Kalyani Chawla's Beauty Tips:

Bronzers work well on Indian skin and make you glow
MAC Lipglass will give you a long-lasting finish, ideal for evening wear
Be fanatic about removing eye make-up with an extra gentle cleansing gel
Add a few drops of baby oil to your bath for soft skin all over

Kalyani Chawla's Beauty Must-Haves:
Lakme High Definition Eyeliner
Dior Capture Totale Serum
Dior Prestige Revitalizing Eye Cream
Johnson's Baby Oil
Dior Eye Make-up Remover
MAC Lipglass
image source: Vogue India, photos taken by me and mostly my amazingly fabulous camera.