Alright, I admit I have a sleeping problem. I need to rectify that. From tomorrow onwards, I will not stay up all night doing... nothing. May the gods of sleep be with me from now on. But right now, I'm going to use this time for good. This is a look I do because I like an easy, glowy look in the summer. I love to glow, even though I'm an incredibly oily skinned girl. I think it's a nice look for a lazy dinner out on the patio with friends. I hope you like this look because it's a very simple one. I have a couple more complicated ones up next if you don't like this.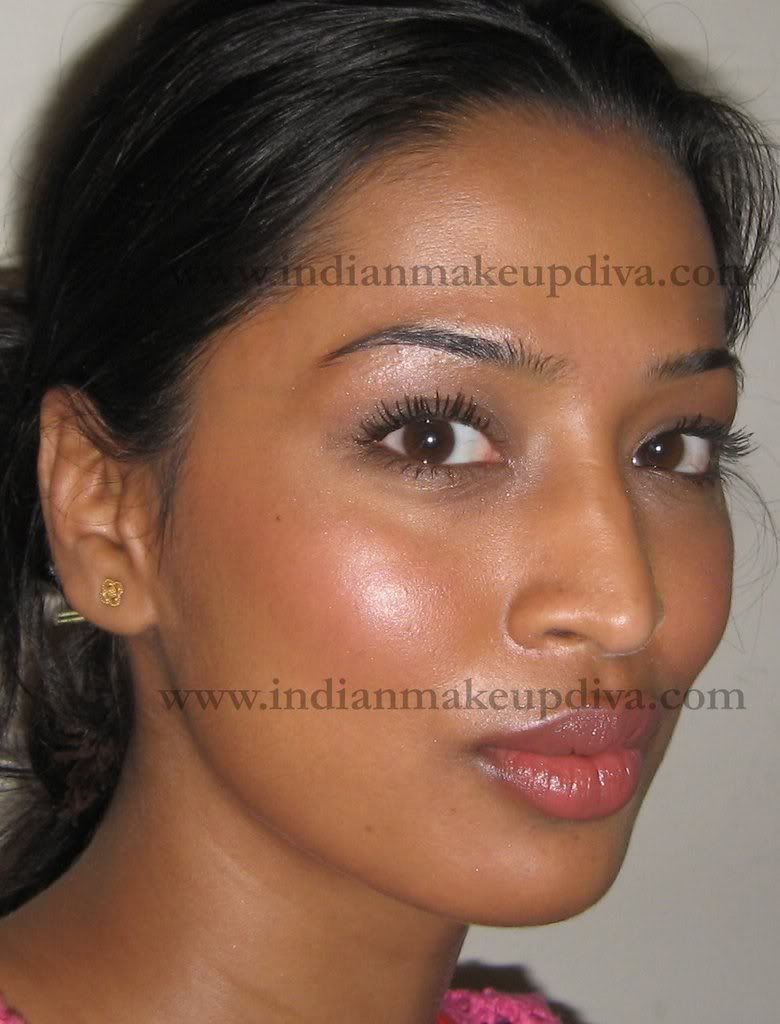 Tools Used:

MAC 129 powder brush. I used this for the highlight too. As long as you don't dunk it in highlighter I find it works well for both powder and highlighter.
MAC 217 blending brush to apply highlighter to my lids, browbone, and the bridge of my nose.
Fingers. I'm gross for dipping my fingers into a pot concealor.

Make-up Used:
Shiseido Translucent Powder.

MAC Studio Finish Concealor in NW35

Bobbi Brown Shimmer Brick in Tawny used on lids and highlight
Bobbi Brown pot rouge in Pale Pink. You'll be surprised how beautiful it is as a blush on dark skin.
Bobbi Brown pot rouge in Velvet Plum
Blistex

L'Oreal Voluminous
Step 1:
If needed spot conceal problem areas on the face and use a tinted moisturizer. Then set with translucent powder. I wanted to let my skin show through and to really make it a quick look so I left it at translucent powder.
Step 2:
Conceal under-eye circles with the concealor of your choice. I just patted it on with my fingers. Set it with translucent powder.
Step 4:
Apply the Pale Pink pot rouge to the apple of the cheeks and blend to the temples. It's a surprisingly flattering pop of colour on my skin.
Step 5:
Pat on the Velvet Plum pot rouge to lips with fingers. It doesn't have to be precise and you don't want it to look like you put a lot of effort into it. You're basically trying to stain your lips with the lip colour. Even if you're using a similar coloured lipstick, try patting it on with your fingers to get a smudgey effect.
Step 6:
Apply blistex on top of your lip colour to give it a soft sheen and to keep lips hydrated.
Step 7:
Using the MAC 129 brush, dust highlighter lightly on the top of your cheekbones. Then take the MAC 217 brush and apply the highlighter to the center of your lids and blend out. Continue highlighting the brow bone, the bridge of the nose, and the cupid's bow.
Step 8:
Apply two coats of mascara to top lashes and one coat to bottom lashes.