I recently got this and I am very impressed. I like eyeliners of all kinds, my desi genes take care of that. An eyeliner seems to have a siren's call to my surma-loving ears. So it only seemed fitting to do a review on every desi girl's must have: liquid eyeliner.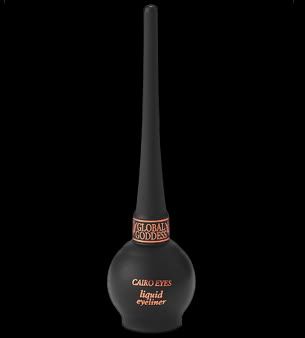 First off, I adore the packaging of the product. It's very intricate and delicate with a long handle that gives great control over the applicator. The Global Goddess website states that these eyeliners contain Boabab and Moringa oil. I'm a little skeptical on the effectiveness of make-up that targets complex skin care issues because of their low concentrations so interpret the oils included what you will.

The colour I got was Dynasty which is a deep brown. I wanted to deviate from my usual black and I found this a softer but still rich variation. It still was deep enough to give my eyes an 'oomph.'

What I really liked about the eyeliner is that it stays on through a hell of a lot of abuse. I put it on in the morning and it was on my eyes as fresh as when I had put it on. It's not waterproof but it was very sweat proof and lasted through an intense workout. It also didn't flake one bit and I didn't have exacerbated raccoon rings because of the flakes. So many liners, be they liquid, cream, or gel, seem to do this on my oily lids but the Global Goddess liquid liner is really resistant to flaking. This ranks very high on my eyeliner list because it stays put really well.