I contacted Vipul Bhagat a while back and he was incredibly nice and helpful. He has over 14 years of experience in the industry and has a large celebrity following, among which are Svetha Jaishankar, Malaika Arora, and Madhu Sapre. Here are a few pics from his portfolio: pic 1, pic 2, pic 3, pic 4, pic 5.

Me: Are there any products that always feature in your kit?
Vipul Bhagat: MAC and Kryolan products.

Me: What brands do you rely on for foundation? Which brands do you prefer for darker skin tones and which would you prefer for lighter skin tones?
Vipul Bhagat: MAC for lighter skin tones, Bobbi Brown and Kryolan for darker skin tones. I don't like MAC foundations too much for darker skin tones because they can go on a bit grey on the skin.

Me: For a professional look for work, what are the products and what kind of a look do you recommend?
Vipul Bhagat: I would do a beauty-shot type look where the skin is central. Or western dark eyes and pale lips.
Note: I'm guessing he means a smokey eye. Just making sure make-up jargon is universal.

Me: For weddings, what are some products you feel a bride should look into?
Vipul Bhagat: For weddings mainly the foundation, lipstick and kajal pencil are important. If you can, try to make all these things waterproof as Indian brides tend to cry after their wedding they become emotional. MAC Blot Powder is also good to keep your skin matte and looking good in photos.

Me: What are some mistakes you see women making with regards to make-up and what would you suggest as opposed to what they currently do?
Vipul Bhagat: They don't cover their dark circles, they use kaajal pencil which at the end of the day is spread all over the eye region and looks like dark circles, and always carry a chapstick and then their lips become very dry and cracked.
Note: I am so guilty of doing the last thing.


Me: What are some of your favourite MAC products that you use often.
Vipul Bhagat: Stripdown and especially Spice lip liners. For lipglosses I like Lust, Love Child, and Chai. Blushes like Pink Swoon and Peaches are wonderful.



Me: Are there any specific creams you like using to prep skin for make-up?
Vipul Bhagat: I use MAC Studio Mositure Fix. I use other creams from the Body Shop and MAC

Me: And last but not least, can you name any of the products you used on Shveta Jaishanker for her wedding?
Note: If you have no clue who she is (which I didn't, I had to Google her), she is a former Miss India and is a model.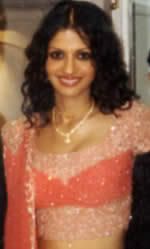 Vipul Bhagat: I used Kryolan foundation. Then, I used Spice lip liner to outline and then filled it in with Cosmo lipstick. I lined her eyes with Smolder eye kohl and finished with a L'Oreal mascara. For blusher, I used Pink Swoon.
Note: except the foundation, they're all MAC products in case you were feeling lost. Also, this is my personal recommendation since he doesn't specify the exact mascara, try voluminous. It is my all time favourite mascara.