I know you ladies requested a breakdown of Aishwarya's make-up at Cannes. Since Kohl Girl already did one on Roop Cafe, I decided to do a breakdown of another one of Aishwarya's look at Cannes. Here, Aishwarya has cool violet shadows on her lids, neutral lips, and a surprisingly warm blush.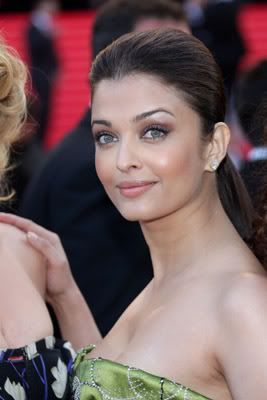 Recommended Make-up:

NYC Translucent Powder
Urban Decay Primer Potion
Maybelline Define-A-Brow Gel
MAC Nocturnelle eyeshadow
MAC Shadowy Lady eyeshadow
MAC Shroom eyeshadow

L'Oreal HiP cream liner in Black
L'Oreal Panoramic Curl mascara (my newest love by the way)
NARS Gina blush

MAC Midimauve lipstick

Sephora Sugar 'n' Spice lip gloss
Face:
Aishwarya's look is glowy but not in a 'Shweta Salve's ode to the oil rig' kind of way. Rather, it's very subdued and so I really recommend applying a satin finish foundation to achieve a flawless base. I purposely don't recommend using a dewy finish because that would take away from the sophisticated feeling of this look. Keep the glow as the finishing touch.
Conceal problem areas and any under-eye circles with a concealor that matches your skin tone. Set with translucent powder.
Eyes
:
A really good base is necessary for this look. I find that purples are tricky to wear if your lids have even a little purple in them naturally. Apply the Primer Potion on lids and pat it out.
Brows:
The brows should be very neat and manicured so tweeze away any stray hairs and set the brows into place with the Define-A-Brow gel.
Eyelid:
Apply Nocturnelle from lash line to crease.
Crease:
Define the crease with Shadowy Lady and blend mostly into the lid. Then, blend the shadow slightly outward from the crease. Do not bled too high up to the brow bone.
Highlight:
Apply Shroom on the brow bone and blend into the crease.
Eyeliner:
Apply the HiP cream liner along the top lash line. Start from the inner corners and thicken the line slightly while keeping it fairly thing as you get to the outer corners. Do not extend the liner past the outer edge. Line the bottom lash line but keep the line very thin and and as close to the lashes possible
Mascara:
Curl lashes and apply the Panoramic Curl mascara on both bottom and top lashes. It looks like Aishwarya is wearing false lashes, so if you'd like to create the same drama apply a full strip of natural looking false lashes.
Cheeks:
For a warm, peachy glow dust Gina on the apple of the cheeks and blend towards the temple.
Lips:
Apply the Midimauve lipstick on lips and top it off with the Sugar 'n' Spice lip gloss.
Overall Glow:
To get Aishwarya's covetous glow, apply the Glistening Flush highlighter on top of your cheekbones, (very lightly) on the bridge of your nose, on the brow bone, and cupid's bow. Blend out until you get her imperceptible glow.