I've been testing this foundation for a few weeks now. From the Nixie foundations I wanted to test drive, I ended up really liking this one a lot.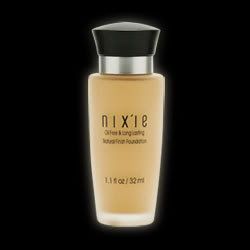 The consistency of the foundation lies more in the realm of a thinner formulation. To compare, it is thinner than MAC's Studio Fix Fluid. It's an easy to blend foundation and the shade I tried, Olive 2, had enough olive undertones so that it didn't purely bring out the yellow undertones of my skin. I'm not too familiar with the range of colours from Nixie but I would recommend contacting their customers service if you can't determine the shade that matches your skin tone from their swatches.

A few days ago, I tried on a mask that made my skin react violently and made my skin red and scaly. That evening, I had to go somewhere and look less like I'd been burned by sitting in a furnace and as human as possible. I was desperate and put on this foundation. I was very happy with how it worked.

The foundation has a satin finish and you can matte it out with some translucent powder easily. It covered up most of the redness nicely and toned down the angry burn marks I got from reacting to the face mask. Overall, I'd say it provides medium coverage on its own that you can sheer out for less coverage. You can also build up coverage but I don't think you can get truly full coverage. The foundation didn't irritate the sensitive areas of my skin (and I had a lot) and in the warm weather (around 80F/27C) didn't make me feel like I was wearing a heavy mask. Granted, I haven't tested it out in warmer weather but the foundation didn't itch due to the heat.

Another plus is that it held up throughout the day. I didn't wear a primer and the foundation covered well into the evening. The best thing in my opinion about this foundation is that it didn't make me break out. I test drove this foundation for a few weeks and it has fortunately enough not broken me out any time I've worn it.

What really convinced me to give rave reviews for this foundation is how my skin reacted after I forgot to take off my make-up and went for a jog. I know my skin and if make-up clogs my pores I wake up the next day with massive zits-in-progress. After my sweaty jog (I am very proud of the distance/how long I jogged by the way), I came back dreading my skin's reaction. However, while my skin is still recovering from my face-mask idiocy it hasn't become a clogged mess. I haven't broken out from this foundation days after the infamous jog. I realize that everyone's skin reacts differently but my experiences were very positive.

Taking off the foundation is simple enough. I used a make-up remover first and then washed it off with my regular cleanser. This seemed to wash off the foundation and since my skin hasn' reacted with angry pimples I'd say this was effective in taking off the foundation.

For reference, my skintone in MAC is NC45 and the Nixie Olive 2 was a match.