I know this is a bit late with the look but here it is. I actually did this look on a friend and she really liked it. I hope you like it too.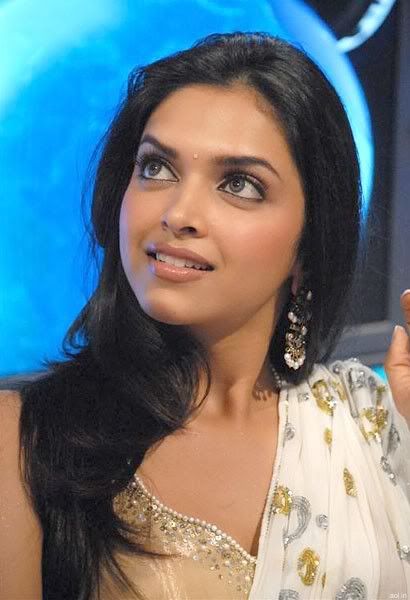 Face:
Since everything is understated you want the skin to really make the look. Apply a medium coverage foundation in thin layers until you get a flawless finish. Building up coverage allows you to use the right amount of foundation necessary to make your skin look perfect. Conceal problem areas if necessary with a creamy concealor that matches your skintone. Apply translucent powder to set the make-up.

Eyes:
To keep the eyeshadows from creasing and disappearing, apply primer on the lids.

Recommendation: Urban Decay Primer Potion

Brows:
Deepika's brows are fairly thick, defined, and neat. So pluck away any stray hairs and emphasize eyebrows with a deep brown eyebrow pencil. I don't recommend using a black eyebrow pencil because I find that too harsh. Brush brow gel through your brows to keep them in place.

Recommendation: MAC Stud, Ardell Brow & Lash Growth Accelerator

Eyelid:
Apply a shimmery peachy gold from lash line to crease.

Recommendation: MAC All That Glitters

Crease:
You want to use a soft crease colour that's not too jarring and stark compared to the lid colour. Apply a medium brown shadow with gold shimmer in the crease and blend into the lid colour and towards the brow bone.

Recommendation: MAC Mulch

Highlight:
Apply a shimmery champagne on the brow bone and blend into the crease colour.

Recommendation: MAC Ricepaper

Eyeliner:
Keep your hand steady when applying liner as the entire top and bottom lash lines are lined but it is very thin. With a black cream or gel liner and starting at the inner corner of the eye, make a thin line and progress to the outer corner. Do this on the top and bottom lashes and connect the eyeliner at the outer corner of the eye.

Recommendation: L'Oreal Hip cream liner in Black

Mascara and False Lashes:
Deepika is wearing a full strip of false lashes. If you don't want to use false lashes, apply a primer and a volumizing mascara to give length and volume to the lashes. Comb out any clumps with a lash comb. For added drama, apply a full strip of false eyelashes.

Recommendation: L'Oreal Voluminous, Clinique Lash Building Primer

Cheeks:
The blush for this look is very delicate and soft so be very light handed when applying blush. Dip your blush brush into a soft peachy pink blush with light gold shimmer, tap the brush gently to get rid of the excess blush, and apply to the apple of your cheek and blend towards the temple. Remember, you can always build intensity so use a light hand.

Recommendation: NARS Deep Throat

Lips:
Apply a neutral, medium pinky nude lipstick and top it off with a soft apricot lip gloss.

Recommendation: for fairer skin tones I really recommend using MAC Hug Me (which I'm willing to bet my life was used on Deepika). If you're darker like me and get a bit too washed out if there isn't enough warm tones to a lipstick, I recommend using Prescriptives Bare Cream. Either way you get a very accurate interpretation of Deepika's lipstick when you use the gloss over it. MAC Love Nectar lusterglass.