When I read in magazines that a blush is universal I let out a mocking laugh full of "I know they paid you to write that, I just wonder how much." Or at the very least I have a private chuckle full of smugness. Sure a blush is universal. It is as likely to flatter every skin tone as an eye cream is going to magically make my under eye circles disappear. So I'm not going to proclaim a blush as universal but Vasanti's Sayan blush comes incredibly close to gaining that status.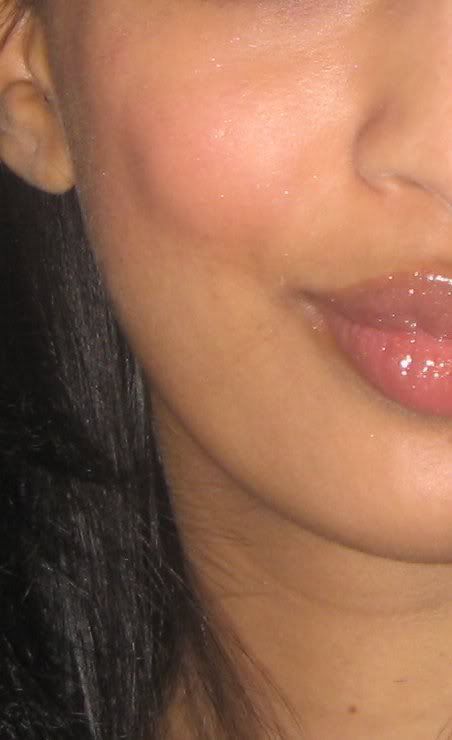 The first thing I remarked when I received the blush was that the packaging is almost exactly like the packaging for Scott Barnes' eyeshadows. The only difference other than the name on it is the colour. Vasanti's blush comes in a silver case whereas Scott Barnes' is a goldish brown. The size of the blush is quite small, but they're much bigger than Besame's blushes and are around the same size as a Scott Barnes' eyeshadow. However, for the price it is not an outrageously small amount.

You're probably wondering why I love this blush so much. Well, it is a great blush every girl should own. Vasanti describes it as a beautiful sheer peach but I'd add that it also has a fair bit of brown to make it a no-brainer blush. It's pigmented enough to show up on much darker skintones than mine and the colour is soft enough to not be difficult to apply even on much fairer skintones. Of course, I'd recommend not applying it with a trowel, but the blush doesn't require a lot of finesse in application.

Vasanti Sayan doesn't contain any shimmer and blends into my skintone and doesn't look chalky or artificial. It goes on smoothly and rivals quite a few high end brands, stays on all day, and most importantly, looks fabulous on desi skintones. I've tried this on so many people after getting it and both I and my victim have loved it each time. If I were to suggest a great blush for someone who had never worn blush before, I'd recommend this one. For those who have tons of blushes, I'd say this is a great staple that you can dress up or down with different make-up looks. I'm very impressed with this blush and I would call it as close to universally flattering as a blush can get.