I know this is very basic but someone asked me for such a tutorial a long time ago. It was so long ago that I'm ashamed to tell you when exactly that was. I'm something of an anti-foundation person as I don't wear it in daily life. However, I recently got samples of 2 foundations for which I will do a review of soon. In the process I figured why not add a tutorial while I'm at it.

Take note, I'm having some "peeling issues" along my hairline so that's why it might seem to be darker or patchy there. It's from a skincare thing I'm trying out. GREAT results but the peeling around the hairline is annoying. I will post about this more elaborately.

Basics:

Determine what kind of a finish you and what coverage you want. Factor in whether you are going to use a concealor or not. You might be able to go lighter on the coverage if you're going to use a concealor.
For hyperpigmentation from acne scars, you can usually erase their appearance temporarily with concealor and foundation. For blemishes that are still alive and thriving (like mine), I like to first cover with a concealer first that matches the skin tone, then apply foundation, and touch up if necessary. For pitted scars, I can do a tutorial because I find that it is easier to show step by step what to do.
Figure out what your undertones are and what undertones in foundation suit you best. I know some very fair desi women who have pink cheeks and so assume that their undertones are pink. Look at the face as a whole. Determine what undertones are overwhelmingly present and use that as a starting point to choose your foundation. My undertones are very olive/yellow and so I would look for a foundation that would complement that.

On me, too much yellow in foundation looks horrible and mask like. I would ideally look for a foundation that is more balanced that only yellow undertones. For me, it is necessary that there be olive in the formulation too. Try to see what balance is necessary to look natural on your skintone.
Walk around for a day with the foundation you're interested in to see whether it oxidizes and how it looks during the day. When foundation oxidizes, it becomes darker and you're left with very obvious looking foundation

Make-up used:
Nixie Natural Finish Foundation/Oil Free (test driving this for you ladies)
Besame translucent powder. Basically what you need is powder to set the make-up.

Revlon Skinlights Illuminating Wand in Medium Touch. Sadly, this concealor is discontinued. Pity since it matched my skintone perfectly and conceals dark circles and blemishes very well. I found mine at Big Lots for $2 a few weeks ago so they are still on this planet.
Benefit Moon Beam. I like the soft, dewy look and I love this highlighter for it. You can skip this step if you want. What I like about the Moon Beam is that the glow is soft and understated. No discoball effect, just a dewy finish.
Tools used:
MAC 242 brush. I use this to apply concealor on blemishes and sometimes on under-eyes too. I prefer using my fingers to pat the concealor on my under-eyes.

MAC 187 brush. I use this for foundation as you need very, very little. It spreads the foundation evenly and in a very thin layer so you get a natural, 'my skin is shining through' look. This brush allows a very controlled level of application so you can layer foundation if necessary. You can find stippling brushes from other brands too that are quite good.
MAC 129 brush. I use this for powder and when needed for blush.

Step 1:
I always recommend patting on some eye cream and moisturizer first. If you want, you can use a primer on top of that. I'm going to start with concealing the most obvious problem I have: my under-eye circles. I apply my concealor on the inner corner of my eye, on the sides of my nose, and along the lower eyelid. If you want, you can apply some on the top lid too. I prefer to leave that be because I will use primer and shadow on my lid anyway.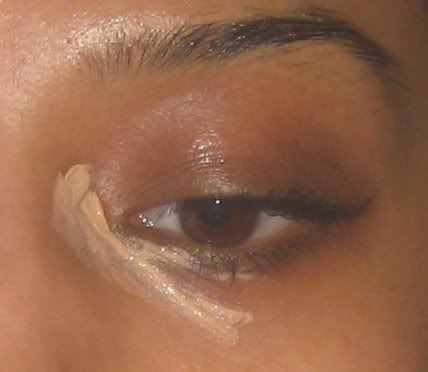 Step 2:
I like to use my fingers to tap the concealor gently on my under-eyes and blend it into the surrounding areas. Be careful not to tug at your under-eyes and to make a tapping motion to spread the concealor. I find the MAC 242 works very well for this purpose too.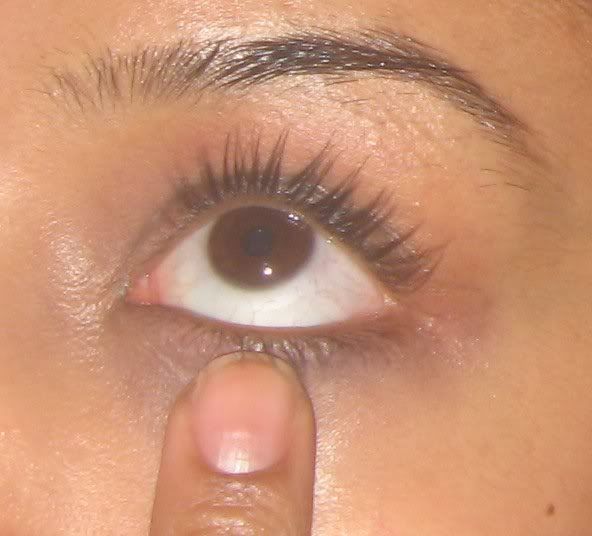 Initial Result
The concealor is blended into the under-eyes and the surrounding area. It's very close to my skintone. If your concealor is not sensationally lighter than your skin tone but if it's a bit off, foundation will fix that.
Step 3
:
If you have any active blemishes (mine has been alive and thriving for the past 1 1/2 months just So you know) or a lot of hyperpigmentation, mask them with a concealor that matches you skin tone. This is why I love the Revlon skinlights concealor. It does such a good jod with my under-eyes and any blemishes.
Before: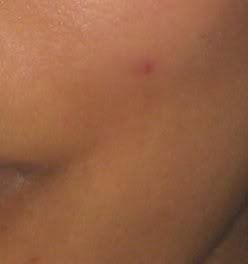 After: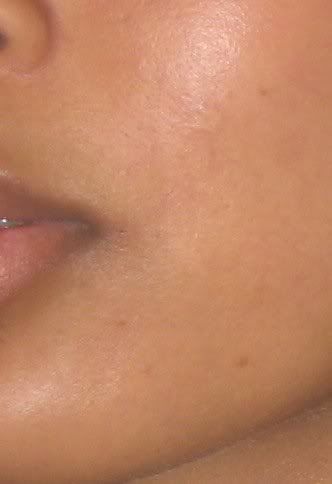 Step 4:
Apply a few dots of foundation on the forehead, cheeks, nose, chin, and on the outer bridge of the nose near your eyes. Remember, you can always add more foundation later so it's better to do it by layers. You might find out that you don't need so much after all.
Step 5:
I blended the foundation out by making small circular movements with the MAC 187. I find that circular movements give the best results with a stippling brush because they spread the foundation more seamlessly.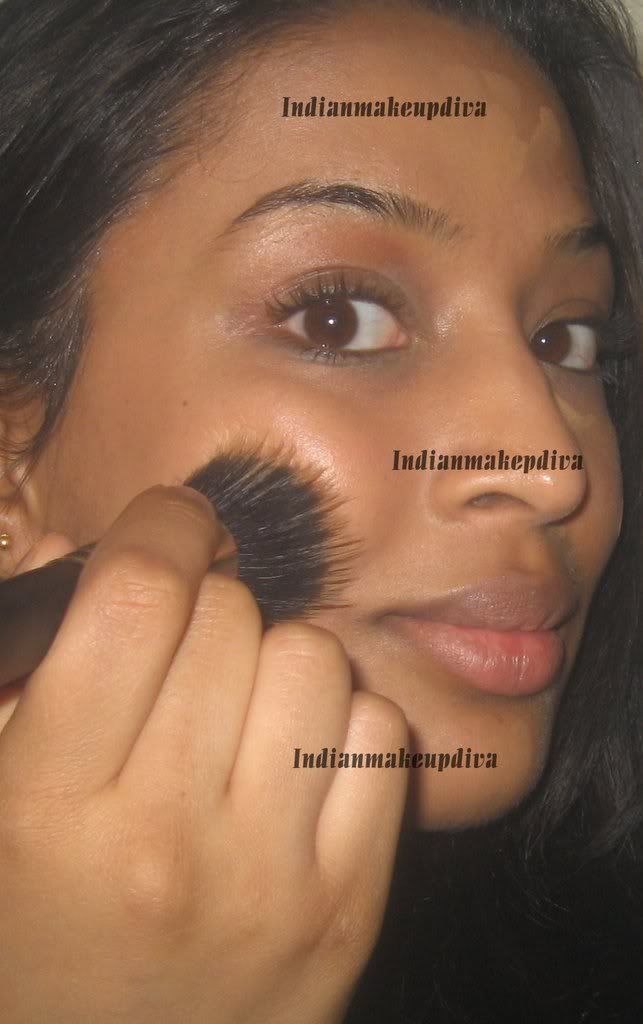 Step 6:
If necessary, add some extra concealor on persistent blemishes to neutralize them (I like the sound of neutralizing them. sounds very "this is the CIA and we need to kill this blemish. Ok, I just realized how lame that comment was). Blend the edges into the foundation.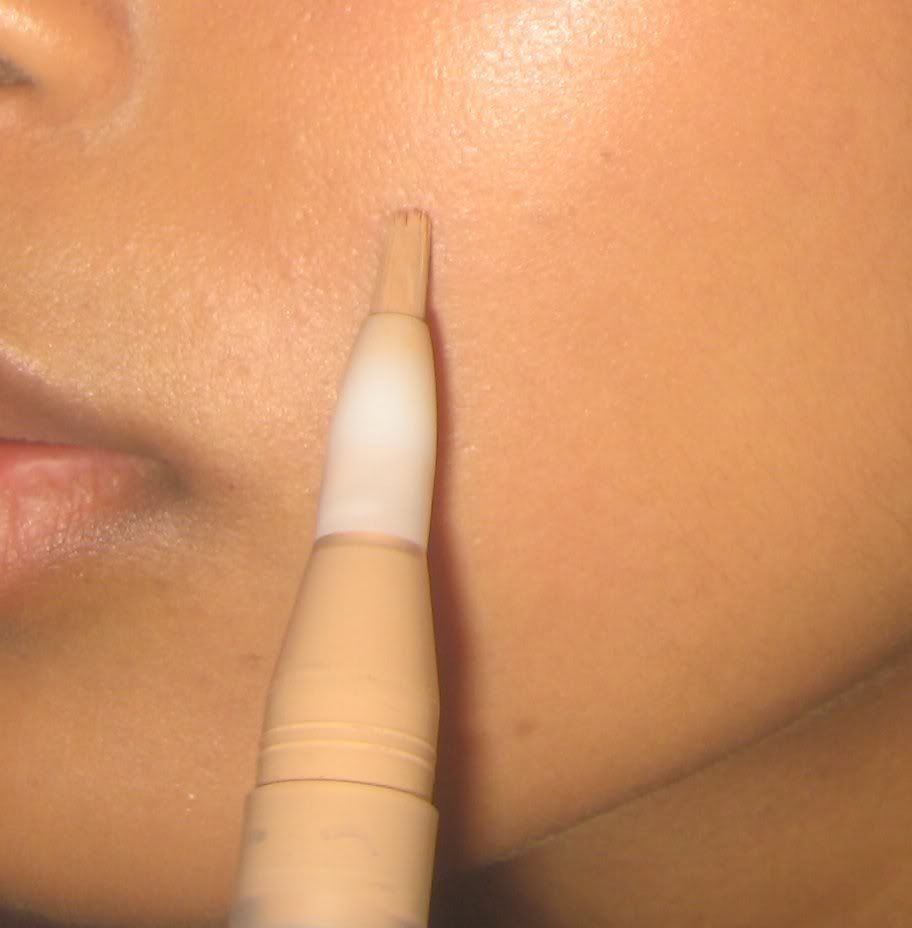 Step 7:
I like to add a glow which is very soft. If you want to skip this step, do so by all means. I applied Moon Beam on the bridge of my nose (very lightly), on top of my cheekbones to my temple, on the brow bone and followed the curve of my eyebrows all the way to the highlighter on the cheekbone, and on my cupid's bow.
Step 8:
I blended the Moon Beam with my fingers.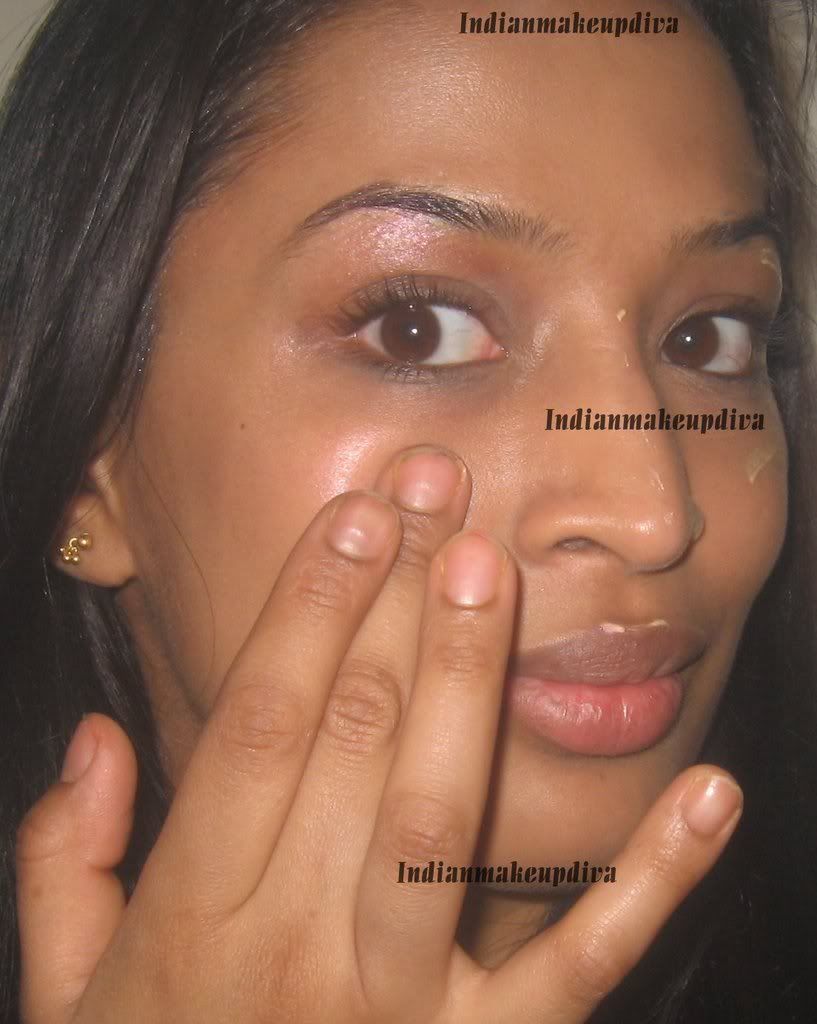 Step 9:
I dipped my powder brush in my translucent powder, tapped off the excess, and applied a thin layer over the foundation to set it.
Step 10:
Don't forget to set the concealor on the under-eyes with powder. You can also use an eyeshadow brush for more precise application.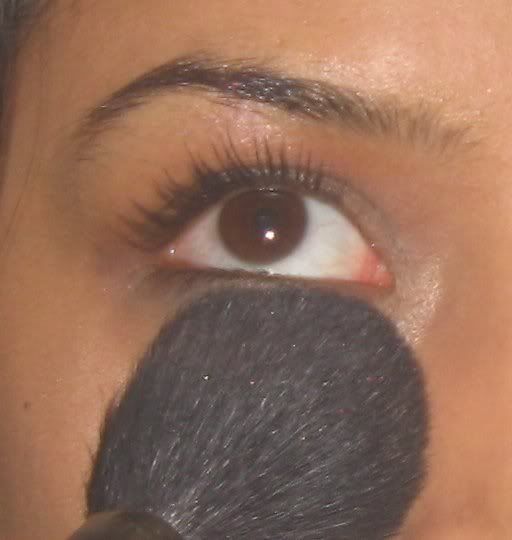 Final Result:
See, that wasn't so hard. It looks very natural I think.