This is not quite a full-on FOTD, but bear with me while I get to that. I know some of you wanted reviews on red lipsticks or a look incorporating red lipstick. I have a review here of Besame's Noir Red. So put on a pair of sunglasses (it makes my teeth look W-H-I-T-E and I couldn't help showing it off. I'm not concerned about your ability to see, I'm sorry. Not when my teeth look this white.)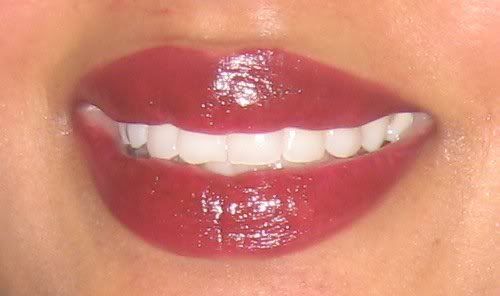 First off, let me start by saying how incredibly irritating the size of Besame's lipsticks are. They are the same size as a sample lipstick I once received at the Shiseido counter. The company states that the formula of the lipsticks is very richly pigmented so you use less. I'm not sure how accurate I would say this assessment is, but I do agree that the lipsticks are very pigmented. The lipsticks are also rich, creamy, non-drying, and long lasting.

Noir Red is an intensely pigmented deep blackberry red. It's not for the faint of heart but it is fairly easy to wear since it's not a straight-up, screaming red. This colour would suit a wide variety of skintones, but I think this was made for us darker skinned ladies. Furthermore, if you also have the problem of two-toned lips you'll find that Noir Red does a good job of fooling you into thinking your lips are both the same colour. This never happens to me unless I'm wearing a generous dose of lip liner.

All you nc45s of more should definitely try out this colour if you ever get yourself over the ridiculously small size of the lipstick (can you tell that this is an issue for me). The colour is so glamorous and so pigmented that I feel like the tiny size of the lipstick is worth it.