Some people are aficionados of very dark lipliner with a pale, frosty lipstick. While I firmly believe that there is a time and place for all make-up trends, I sincerely hope that trends such as the aforementioned one remain closeted. I know I sound awful, but I am about to redeem myself. My favourite trend, nay cult-like persuasion, in make-up is that of a dewy, glowy complexion. I want that youthful radiance and have tried countless number of ways to get it. You might remember, I ranted rather bitterly and vehemently against Kevyn Aucoin's White Shimmer Liquid. I want something that will give me a gentle, lit from within glow that doesn't look like sweat or oiliness and doesn't look chunky and obvious. Which is exactly why I love Benefit's High Beam. Also, the pic is ridiculously crappy since my camera is evil.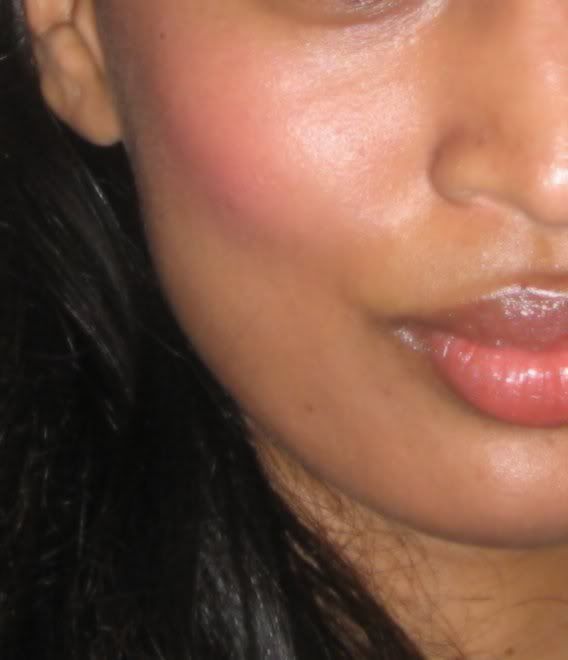 High Beam is a light pinky liquid that gives me a soft pearly glow. The consistency is not water or runny and it is easy to dot it on my cheekbones, browbone, the bridge of my nose, etc and blend it with my fingers. I'm not one for science (in my defense, I haven't reached Sherri Shepard's "Is the world round? I thought it was flat" delirium yet), but I feel like since I can warm up the liquid with my fingers, High Beam "melts" into my make-up better and doesn't sit as a layer.
Another benefit (see the pun? I'm feeling awfully clever today) of High Beam is that it doesn't give you a chunky shimmer. It doesn't look obvious because it gives you a soft sheen rather than anything. I can't see the individual particles that give me a glow. I find that this is what helps the dewy look I get from High Beam look natural and radiant.
One thing I must mention is that I think most desi skintones from nc45 to lighter can definitely pull off both, but if you're much darker I'd recommend Moon Beam as it has a goldish sheen.
I haven't ever broken out from this product before, so that is always a plus. As always, I recommend you try it out at a counter and walk around with it for a day to see how you react to it if you're very concerned about clogged pores. For me, this is one of my favourite and most used highlighters along with Albatross (that love affair will never end).