I feel like I should start my first post in a while with some witty banter where you chuckle when you read my startlingly dry and sarcastic hello. Alas, I am without such an ingenious opening. I didn't want to start with yet another "I thought I'd post about . . . " I digress. One of the many questions in this universe that I feel needs tending to is what are the minimum must-have brushes a girl needs. I am going to do a series of posts on must-have make-up brushes and this is my first step.

Here is my mind-blinding or mind-numbing (your choice of which) insight into the foundation brush, which I feel is an absolute essential to a brush collection. I can almost hear you say "well, duh!" I did need to start off with the most obvious one. Foundation brushes are shaped thinly so that the foundation is concentrated within the bristles and are not dispersed in the application. In contrast, a large powder brush disperses powder over a large surface whereas the synthetic fibres of a foundation brush hold emollient products densely packed within a tight area. I personally prefer a traditionally shaped foundation brush versus ones with a squared-head because the domed shape helps me apply foundation in the nooks and crannies of the face easier.

Foundation brushes are also a really good applicator for cream blushes. True, the brush is a bit bigger than a brush meant for cream blushes but the following tutorial explains how to accomplish multi-tasking the foundation brush. It is a very simple, straightforward process and refer back to my diagram on blush placement if necessary.

What I used:

MAC 190
Bobbi Brown Pot Rouge in Milk Chocolate
Step 1:
Dip the dip into the cream blush and pat onto the blush to pick up pigment. I find that tapping it onto the brush picks up the right amount rather than "scooping" the blush onto the brush. Remember, you can always intensify your blush later.
Step 2:
Smile and find the apple of your cheek. Place the brush on the middle of the apple of the cheek. I try not place the blush any closer to my nose than the inner corner of the iris. You're going to get a splotch of colour here.
Step 3:
With short, feathering strokes, spread the blush with your foundation brush.
Step 4:
Keep blending out the blush with light, short strokes towards the temple.
Step 5:
Blend out any streaks you might have. Voila, we're done.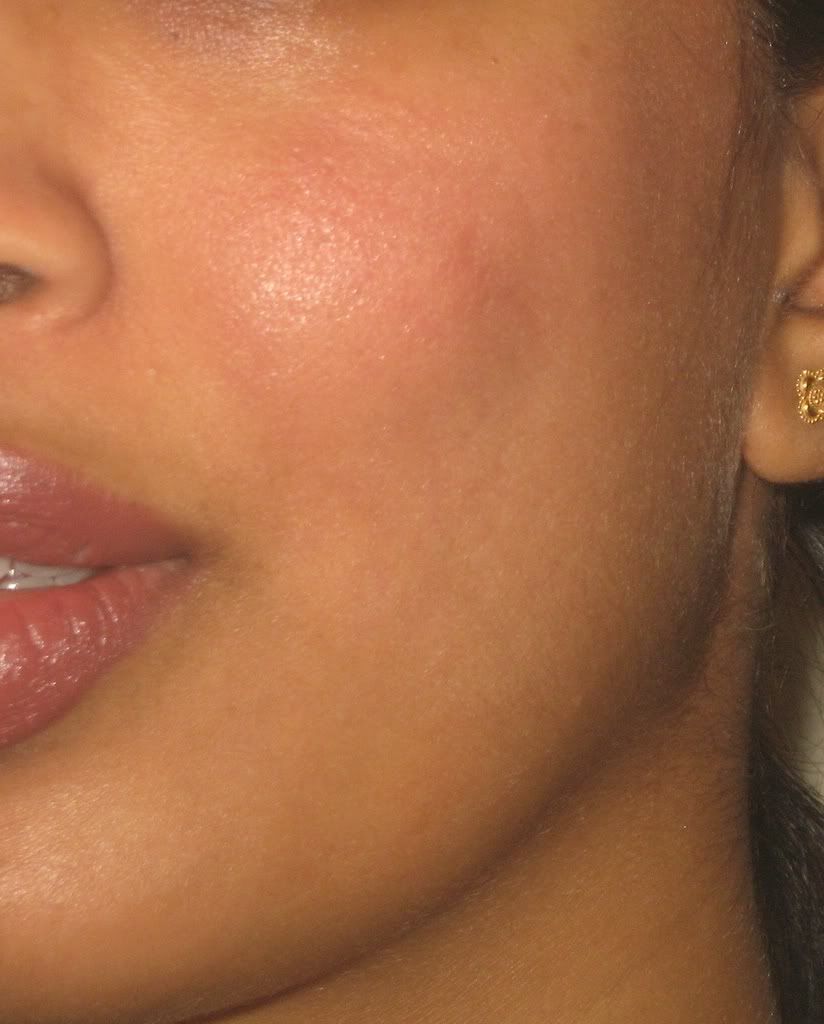 Washing and Drying
Cleaning your foundation brushes is very important and I really recommend washing them as often as possible. I have a few general guidelines on washing brushes that might be of use:
Don't use overly harsh soaps or any conditioners on your brushes. Baby shampoo is my brush cleanser of choice as it is very gentle, effective, and inexpensive. I get one that promises no baby tears and costs roughly $2. Also, this doesn't strip your brushes and you won't be tempted to use conditioner either. Your hair might love the ingredients in your conditioner, but your skin might be sensitive to them. Rubbing conditioner from your foundation brush to all over your face can clog your pores.

Don't allow water to seep into the braiding of your brushes. Try not to let water get past the indicated level on your brushes. It might not make a difference now, but with continued use it might end up loosening the glue and your brushes won't last as long as you'd like.
Squeeze the water from your brushes after washing them. This way, they will dry faster.

Lie your brushes flat after washing them and place a tissue under them so that the water gets absorbed and your brushes don't wallow in the water.