I know you very sweet (I'm being genuine here, when I stat talking about the pic my fangs will be on display) ladies have disagreed with me in the past over my choice of lowlights. However, for the sake of fashion and deskank-ification, I need you full moral support. Agreed, this blog concentrates on beauty and make-up issues but that thing, that poor cloth, that Malaika Arora has draped over her is calling to me. I can hear the collective wails of ever single fiber that constitutes the cloth as they perish. This pic was taken at the Blueberry mobile event on July 25, 2007. This is a bad pic but rest assured it is indeed her. I wanted you to see what she was wearing, let's try not to laugh here, in its entirity.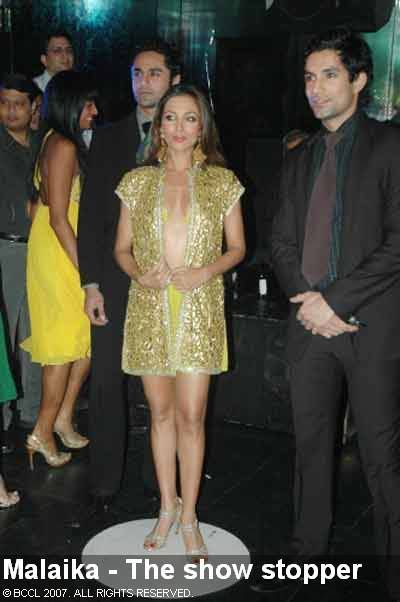 I read a book once where a witch made a tapestry out of the souls of her victims. The grapevine tells me Malaika did the something along the same lines. I believe Malaika went through a perilous journey, first by killing every brain cell that told her not to wear this ever (not to this event, not anywhere); then trap a hundred souls into a bottle; travel though an enchanted forest where animals miraculously could talk and told her to not go to the witch and just wear a damn gown instead; knock on the gnarly old witch's door and offer a blood sacrifice (the sacrifice was really just three thumb pricks with a tiny needle on her pinky finger but would you have been impressed if I told you that?); and then finally exchange the bottle of souls in the dead of the night for the tunic.
I can't be very sure what happened to the souls Malaika gave the witch (the grapevine tells me, and again this is just a rumour, that a great number of people in Bollywood are veritable zombies without their souls and are making movies where a man adopts a boy; kicks him out for marrying the wrong girl; boy and wife go to England and have a baby; kid sings the Indian national anthem thereby making the mother scream in a high-pitched emotional note; we have senseless side characters -oops, it's been done already in Kabhi Khushi Kabhi Gham. Never mind, carry on.) but I do know that Malaika should have spared herself the effort. I hate to think of the brain cells that had to die for this.
I will never know what possessed her to wear this horrible contraption, but I will take even more offense at Indiatimes captioning the picture with "Malaika – The Show Stopper." Do they not realize we'll end up seeing more such cloth-turned-tunic incidences? Do they not care about how many more souls Bollywood is going to loose because of them? All I'm saying is, don't blame me when Malaika comes after your souls next when she's done with all of Bollywood.
image course: http://www.indiatimes.com/