I was playing around with the few shadows that I had brought along with me on vacation and I did this basic look that I quite liked. I will post more intense looks soon, but for now I hope you like it. Also, you can use similar colours from other brands. I did list everything I used without forgetting even one product. It's a proud moment for someone who once forgot her books at home and went to school with an empty bag. Again, these are all true stories.

This is the final look: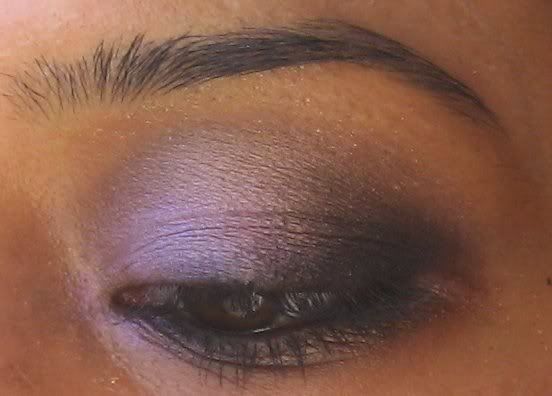 The brushes I used:

MAC 239 brush. If you have an eyeshadow brush you like to basically apply shadow on the lid with, you can always use that instead.
MAC 219 brush. I used this for the crease, smudging, and blending. Again, if you have a different brush you prefer, go ahead with that one.
Windsor & Newton 1/8 inch angeled brush. I used this for the gel liner.
The make-up I used:
Urban Decay Primer Potion
NYC loose translucent powder

MAC Beautiful Iris shadow.

MAC Satin Taupe shadow.

MAC Carbon shadow. I think any non-glittery or non-shimmery shadow would suffice.

MAC Blacktrack Fluidline
Hard Candy Buttered Popcorn. I used this to highlight, but I really don't recommend it. It's an awful shadow but it was the only one I had on me for the job.
CoverGirl Lash Blast mascara
Step 1:
I patted on the Primer Potion on my lids and waited for it to dry (about a minute is fine if you ask me).
Step 2:
I applied a very thin dusting of translucent powder over my lids. I find that Primer Potion makes bending difficult. A thin veil of translucent powder helps me blend my shadows better without adding any danger of my shadows creasing.
Step 3:
I applied Beautiful Iris from lashline to crease.
Step 4:
I applied Carbon in the outer "v" and along the lash line.
Step 5:
I then applied Satin Taupe over the Carbon and blended it into the crease. I applied the shadow all the way into the inner part of the crease, right above the beginning of the eye. Make sure to blend the Satin Taupe into the Beautiful Iris, especially at the inner corner. I also apply less on the inner corner of the eye.
Step 6:
If necessary, add drama at the outer edge with Carbon. Make sure to blend it well into so it doesn't look like a bunch of black shadow.
Step 7:
I applied Blacktrack along my lower and upper lashline. I lined my lower waterline and on my upper lashline, I made the line fairly thin. I blended out the Blacktrack on both lashlines with the 219 brush. You could use a q-tip for this too.
Step 8:
I again applied Satin Taupe over the smudged liner on the top and bottom lashes.
Step 9:
I applied Beautiful Iris on the first 1/3 of the lower lashline, starting from the inner corner.
Step 10:
I added some highlight with Buttered Popcorn on my brow bone and on the inner corner (I told you I didn't like this shadow. It only gives a hint of colour and some glitter that falls everywhere).
Step 11:
I applied a bit of Lash Blast mascara and voila, we're done.