I got the Teamine eye-cream last year after asking my derm for something against my dark circles. A lot of people had told me how good it was for under-eye circles. I forked over the cash, and let me tell you the price hurt (especially after I found out skincarerx.com has it at little more than half the price), and I went home expecting the answer to my dark circles to be magically contained in the jar. First off, let me say I've been using the eye-cream every single day for more than a year so I think I'm giving you a pretty balanced idea of what it does.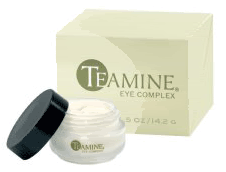 Of all the eye creams I've tried, I feel as if this did the best job in moisturizing my under-eyes. It was light, sunk in very quickly, did not feel heavy or greasy, did not sit on top of my skin, and moisturized my skin very well. I often stay up late studying and it does a fabulous job of destressing my under-eyes the next day. It keeps my under-eyes looking as happy as they can under the circumstances. Now here's the million dollar question: was the hype true and does it really get rid of dark circles?

I have no noticed my under-eyes getting any lighter. They are not noticeably lighter, and they haven't disappeared magically. However, I will say it's one heck of an eye-cream and in doing its job, my under-eyes look brighter simply because they are well moisturized. I didn't expect my dark circles to disappear and I don't think the hype is true. It doesn't make them go away so don't fall for that one (I fell for it again, I really ought to know not to hope by now). But if you need an eye cream that will moisturize your under-eyes, get rid of ashiness, brighten the region as much as possible, then this could be a worthy investment.