I have very, very sensitive skin as you might remember from my rather frequent complaints about it. The winter especially is hard and my skin really gets dry and takes a beating. I am also a little reluctant to slather on a very heavy moisturizer as I am also prone to break outs. Enter La Roche Posay's Toleriance Riche. I know I praise a lot of things by this line, but I promise I only praise things that truly work for me and don't irritate the hell out of my skin.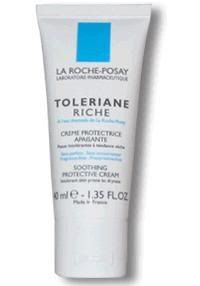 Toleriance Riche comes in a ridiculously tiny squeeze tube and in my opinion the company really could afford to give customers a bigger size. That is my main pet peeve with this moisturizer. Other than that, it is a truly amazing thing. It doesn't contain any preservatives and is quite no-frills. It doesn't have an anti-aging or free radical killing properties. It's basically a rich moisturizer that has a very minimum amount of ingredients. And that is precisely why it has turned out to be such a life saver for me.
This moisturizer sinks in quickly but it's quite rich and leaves my skin dewy. It doesn't irritate the skin and helps so wonderfully to calm the redness I get from harsh wind (told you my skin was sensitive). Redness and peeling are diminished greatly if not gone when I remember to use this moisturizer every night.

The moisturizer is also great as a spot treatment for very dry skin during the day time. I alternate between this and Neosporin if I am in danger (or am already perilously close) of my skin getting onion-like and peeling in layers. I can't rave enough about this miracle in a tube. If you're looking for a good (night time) moisturizer that essentially is meant to hydrate your skin, look not further.