Yes, I am alive and I truly will put up everything I promised to. Let me just share my frustration for a moment before I do M.I.A.'s make-up. My car broke down, the battery is dead, and I am stranded at home. It's something of a less glorified deserted island (at least you ate the occasional coconut). So now I am stuck with my worst enemy: all the homework that needs to be done.

So as per the promise, here is an overview of M.I.A's make-up breakdown and I have also added a few product suggestions. Let me know if you have any product suggestions of your own.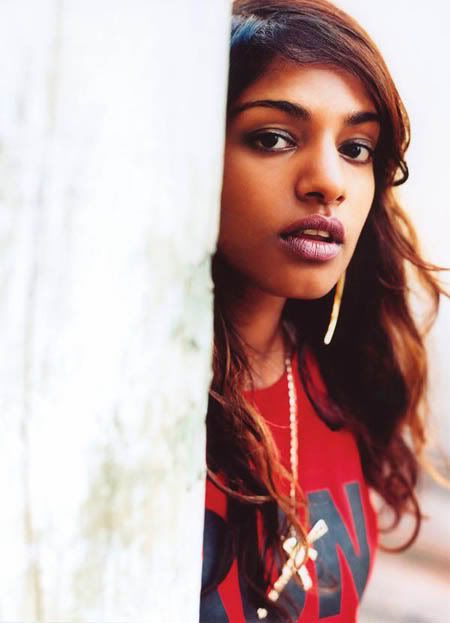 Face:
I know magazine excerpts are never really reliable, but as always (I am boring and repetitive, but that's what happens when you don't have a deserted-island-bring-on-the-coconut-partay), I highly recommend moisturizing your under eyes and face with the moisturizers of your choice. Let it sink in for around 10 minutes. Apply a dewy, medium coverage foundation and blend it into your hairline, neck/jaws etc. Then spot conceal where needed. Apply powder to set the make-up.

Eyes:
As always, I recommend using a primerto make the eyeshadow last longer and be more true to the pan colour. Two of my favourite primers are Urban Decay Primer Potion and Mac Paints. I prefer the Paints because they last as long as the Primer Potion but they allow for better blending.

Brows:
M.I.A.'s brows are thick and prominent but very neatly manicured. Tweeze away stray hairs and if needed, brush your brows to place. If your brows are unruly, use an eyebrow gel to hold them in place. With an eyebrow pencil, fill in your brows using short strokes.

Product Rec: Milani Eyebrow Pencil in Dark Brown.

Eyelid:
Apply a medium mauvey brown shadow from lash line to crease.

Product Rec: Bobbi Brown Fawn Shimmer Wash Eyeshadow.

Now, apply a dark gray (with a slightly blue undertone) shade of eyeshadow with shimmer from the lashline to halfway to the crease. Blend the area where the two shades of gray meet so you have a subtle gradation of colour: the dark grey is strongest at the lashline and it becomes a medium gray at the crease.

Product rec: MAC Knight Divine.

With the dark gray shadow, line the entire lower lid. Blur the edges of the shadow.

Apply a thin line with black pencil liner as close to the top and bottom lash line as possible. Blend out both lines, concentrating slightly more on the upper lash line.

Highlight:
With a soft bone colour shadow, apply the highlight from brow bone to crease. Blend the two shadows together at the crease.

Product rec: The shimmery shade in the NARS all about eve duo Milani Almondine (this is matte, but works really well with shimmery or matte shadows).

Mascara:
Apply a single coat of lash defining mascara.

Product rec: CoverGirl Lash Exact.

Cheeks:
M.I.A.'s blush is barely there, so apply a matte medium deep pinky brown blush sheerly to the apples of the cheeks and blend towards the temple.

Product rec: MAC Blushbaby

Lips:
Apply a deep grape coloured lipstick and top off with a sheer lipgloss with a cool-toned sparkle.

Product Recs:
MAC Del Rio lipstick and Milani Innocent Crystal Gloss.