I believe that desi girls are born into a world where the pursuit of the blackest kajal is something of a the coming of age ritual. For anything other than pencil kohl, I usually reach for my angled liner brush. Before I go on, let me first get out of the way that this brush is the most unglamorous brush on the planet, but it functions better than any other liner brush I have ever tried.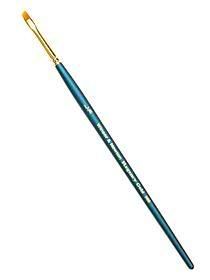 The Windsor & Newton Regency Gold 560 series angled brush is the most perfect angled liner brush in existence. The brush head is 1/4 of an inch wide (it says so on the brush and I couldn't resist the urge to measure this. It is in fact a true measurement.) and is made of taklon fibers that are meant to mimic sable. I had bought this around three years ago as a spare brush I could use for my oil paintings but ended up using it for make-up instead. The brush is intended to pick up and hold pigments, even if the base is very emollient. It is also very easy to tightline with and applies eyeliner in a thick or thin line effortlessly.

The length of the brush handle is as long as an average cosmetic brush so you don't have to maneuver a handle that is so long it could function as a walking stick if the necessity arose. The beauty of this brush lies in its functionality. It applies my gel liners with the same perfect ease that it applies shadows along the lash line. To top it off, it's incredibly easy to clean and doesn't require anything out of the ordinary.

Let me also add that I am not the world's most delicate damsel. If I had been a princess in a fairy tale, I would probably be in a coma because I would have tripped over a rug in the great hall, flown out of a window, and eventually would have landed right next to a shrub. This lovable awkwardness (that's what I like to call it) is sometimes passed on to my handling of my possessions. The Windsor & Newton brush has taken so much abuse, falling, and harsh usage that I fear it will exact its revenge on me while I sleep. In reality it has retained its shape perfectly and not a single hair is out of place.

To end my glowing review of this brush, let me also add that I got it for a mere $3 at an art supply store. These brushes go on sale often and the price is often unbeatable. This brush has become such a staple that I have returned every other angled liner brush that I have tried.