I have very sensitive skin and either the wrong skincare or not thoroughly cleansing my face breaks me out and irritates my skin easily. I do not kid when I say it was easier for me to take an epilady to my underarms (I won't go into this too much, but the epilady was at its highest setting, my hair wasn't trimmed, and I didn't keep the area taut. It hurt. A lot.) than it is to keep my skin clear. There are a very few skin care items that actually work for me, but La Roche Posay's Toleriane Dermo-Nettoyant is an amazing find.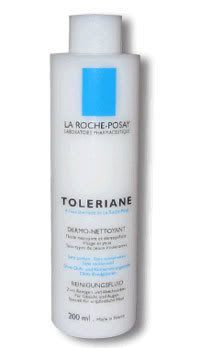 This milky cleanser is fragrance free and very gentle. For me, I can't use a strong cleanser because, I'm going to let you guess this one, my skin gets irritated. Takes taking of make-up and sunscreen just that much more difficult. I find that normal cleansers don't really get rid of sunscreens completely and I need an extra step to have completely gotten rid of all the stuff I put on my face.

The best thing about La Roche Posay's Toleriane Dermo-Nettoyant is that I don't need to use a lot of product, and it dissolves my make-up and sunscreens. I don't usually wear foundation, but I do occasionally wear mineral make-up. This cleansing milk gets rid of all the layers of mineral make-up as well. On top of that, it doesn't break me out at all. I can use this all over my face and I know that my skin won't be irritated at all. When I finally do wash the Toleriane Dermo-Nettoyant, my skin is soft, hydrated, and clean. No make-up residue and no tight feeling where you skin is so dry that it feels like old wallpaper peeling off from the wall.

I cannot be without this product and I love how I can find it online and at CVS. Also, one bottle lasts and lasts as you don't need to pile on the product. One bottle has lasts me roughly a little longer than 6 months with almost daily use.