I know I'm stuck on the smokey eye thing of late, so I'll do a bright coloured or neutral tutorial next time. However, I got the Lumiere eyeshadow to finally work for me and I had to show off the blue shadow. In my opinion, this is a fairly easy smokey eye that's just a tad different because of the lining on the lower rim. Pardon the eyebrows, I need to get them done with weekend.

Again, pardon the simplicity of the tutorial as I'm still enjoying my vacation. I hope you like the tutorial.

What I used:

Urban Decay Primer Potion. This is my absolute favourite primer and with a combination of other things, it helped the Lumiere loose shadows to stick. A good primer isn't always a necessity in the traditional sense, but it makes a lot of difference to the longevity and colour intensity of your shadows.
Lumiere Dark Waters eyeshadow. This is a very intense, shimmery blue shadow with black undertones. A similar shadow would also work.

LORAC

Moonstone . I needed a basic, shimmery champagne as highlight.

MAC

Blacktrack

. I like using gel and cake liners because it gives me great control over how I want the thickness and intensity of the line. I can get my liner to look like a traditional liquid liner or like a smudged pencil liner. A cake or gel liner would be great for this look.
MAC 242 brush. I used this to pack on the loose eyeshadow. Make sure you have a brush that will help you build intensity with your eyeshadow.

MAC 217 brush. I used this to blend the edges of the eyeshadow. Any good blending brush will do.

L'Oreal

Voluminous. I love dark, sooty volume with a smokey eye. You could use any

volumizing

mascara for this look.
Loose powder. I used a nameless brand loose powder under my eyes to catch fallen eyeshadow.

Angled

liner brush. I have the most fabulous liner brush I had extra when I was making a painting. It's a Windsor and Newton brush I bought for around $3 that performs better than any brush out there and has taken a fair amount of abuse.
Q-tips. Actually, I only needed one.

Step 1: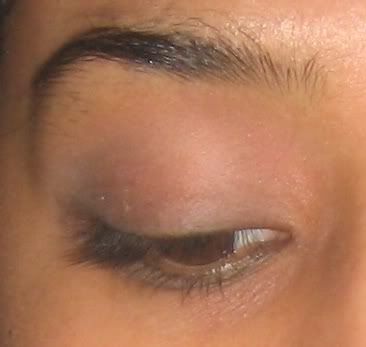 I prepped my lids and lower lash line with primer and I let it stay for about a minute.
Step 2: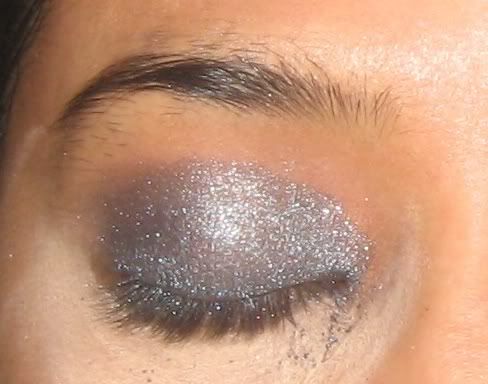 First, I put a generous amount of loose powder on my cheeks and under eyes. With the 242 brush, I applied Deep Waters from lash line to the crease. For a slightly less dramatic look, you could stop right below the crease.
Step 3: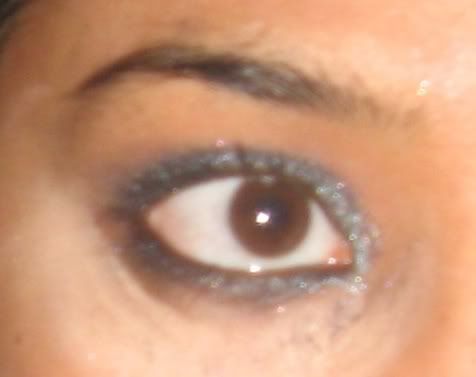 I lined my entire lower lash line with Deep Waters. Again I used the 242 brush (I seriously adore this brush).
Step 4:
To blend the edges of the shadow on my upper lid, I used the 217 brush to blend out the colour at the crease. The edges are now softer than when I first applied the shadow.
Step 5:
I applied Moonstone as highlight on my
brow bone
and blended it into my crease.
Step 6: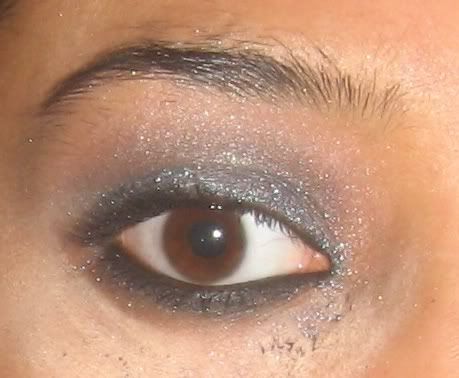 With the
angled
brush, I made a think line on my upper lid. On my lower lid, I made the line
somewhat
thicker. I also lined the inside of my eye (the waterline, where you'd traditionally put
kajal
). Then, I used a q-tip to gently blend the shadow and liner on the lower lash line.
Step 7: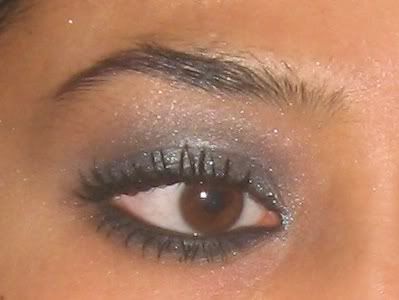 Finally, I dusted off the powder and fallen eyeshadow on my under eyes and cheeks. I finished the look with 2 coats of
volumizing
mascara.