I think we have already established that I love make-up. Love as in "I want to marry it" kind of love. Which is a fine, healthy thing for a woman to experience in her life. So I have a wide range of make-up looks that I love and as much as I love perfect neutrals, I also have a strong passion for colourful, bold hues. I am ashamed to admit that I once had the following conversation with someone, whom we shall call Ms. X (sounds mysterious doesn't it?), who remarked on my love for colour.

Me: Hello!
Ms. X: Oh my! *crosses self* Child... You have the devil in you. The devil!
Me: I uh... Hello?
Ms. X: You have them crazy eyes. Just look at you! Your eyes. They're looking at me all funny.
Me: Are you... Referring to my eyeshadow maybe?
Ms. X: Ah! Don't look at me. Sit there, I'll be right back with some holy water-I mean Evian. Stay!
Me: I have facial wipes if that helps.

Alright so I kid (slightly), but once in a while, I find a great product that works for a broad range of skin tones (for the lighter and darker Desi lovely). I have quite a few palettes, and I always end up using only a few of the products there and leave the other ones pretty much untouched. However, with LORAC's Croc palette I can honestly say I've tried all of the included shades and love them. Also, no one tried to sprinkle holy water on me when I wore the shades in the palette and others have actually asked me what make-up I was wearing. Ergo, I thought the palette was worthy enough for a mention here.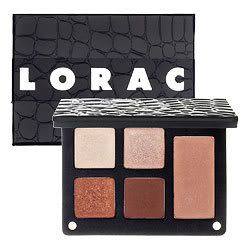 The eye shadows are pigmented and come in a shimmery light beige gold, shimmery champagne, shimmery brown with plum undertones, and a matte deep brown with strong plum undertones. The blush is a slightly rosy plum blush with barely noticeable shimmer which keeps it from being too matte. The shadows glide on so smoothly, are very pigmented, and stay put for quite a while even without primer.

The best thing about this palette is that it can be used for a day and evening look, depending on the combination of the shadows. Also, I like to use the matte eyeshadow as a liner on my lower lid. The two lighter eye shadows also function as highlighters and since I'm on vacation and haven't brought along 40 bags worth of make-up, it's great to have them.

The blush is such a flattering shade that I can also see it complimenting a large range of Desi women. For me, it helps chase away the sallow undertones to my skin and makes me look alive.

The eye shadows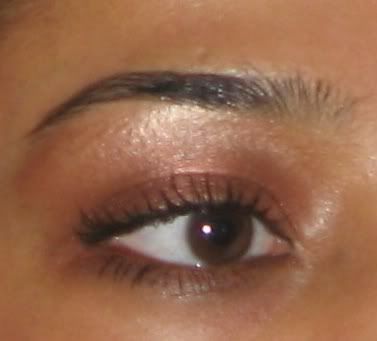 In this pic, I've used the shimmery beige gold as highlight, the shimmery brown eyeshadow with plum undertones as an all over wash on my lid, and the matte shadow for lining my lower lid (very thin line) as close to the lash line as possible. I took this picture in bad lighting, with flash, and at night.



In this pic, I used the shimmery beige gold as highlight (dusted on very lightly I might add), and the shimmery champagne as a wash all over my lid. I used the matte shadow to line my lower lash line. I took this pic outdoors without flash. It's a very natural look and the colours are pretty true to life here (even though the lighting kind of washed me out the colours are about the same as how they looked on me).

image taken from: www.sephora.com