I used to be so intimidated by blush and the little brush that comes along in the packaging. You know, the one that is so tiny that you really don't know what to do with it. So I thought a blush tutorial might be in order. This look is basically a very soft, sheer pop of color on the cheeks. True, the pics are cropped oddly but the basic idea is quite easy (at least I think so).

What you need:

Blush. Quite the shocking revelation isn't it? I used LORAC blush in Soul.

A blush brush. I used Smashbox #16. There are some great blush brushes out there ranging from Essence of Beauty (great, great brushes) and Sonia Kashuk to Stila.

A kabuki bush. I used MAC #182. Again, there are cheaper and more expensive alternatives out there.

Diagram
This is a diagram of how the application proceeds. The application is something of a triangle, at the center of the apple of the cheek the application is at its heaviest and most noticeable, and then I make my way to the temple thinning out the blush "line."
Step 1:
I press the head of my blush brush against the blush pan so that the head of the brush is covered with blush. This is enough blush for one cheek and I never double-dip because otherwise the blush application becomes more dramatic and can even become clownish. If I want a more dramatic application, I pick up more blush on my brush after I'm done with the initial application.
Step 2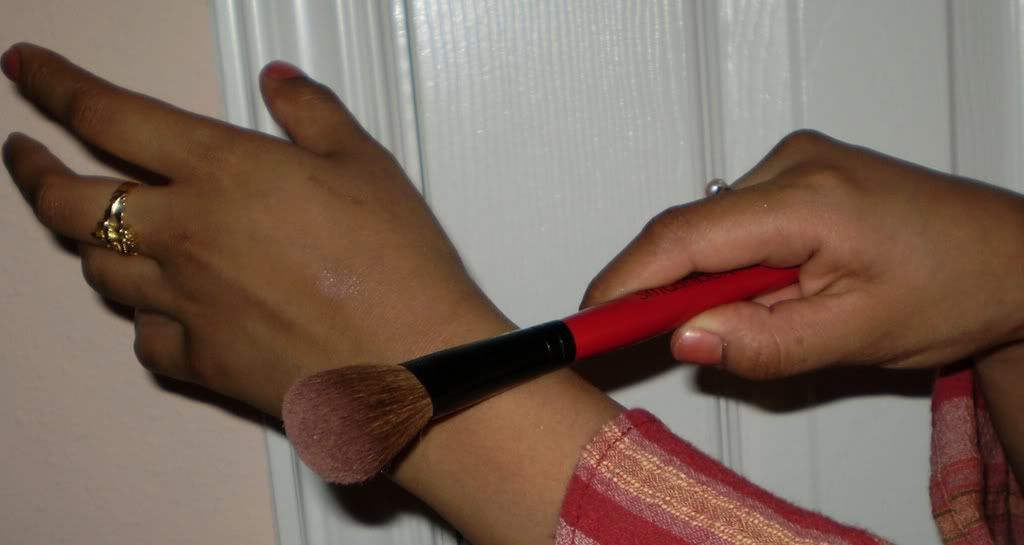 I then tap off the excess blush of my brush by gently tapping the brush over my free hand. This ensures that I don't apply my blush too heavily. I can always add more blush for drama, but it's much harder to get rid of excess blush.
Step 3
I place the brush on the middle of the apply of my cheek and make my way down diagonally. As a general rule of thumb, I never go down lower than the top of my upper lip. I always draw a mental line at the top of my upper lip and try not to go below that. Also, my application is also the most firm at this point because I was to deposit the most color.
Step 4
I decrease the firmness of my application as I make my way to my temple. As you can tell I have applied enough color in the middle of the apple of my cheek but it isn't overwhelming or too strong.
Step 5
I have now reached my temple and my blush application is over a very thin bit of skin as compared to my broad application at the apple of my cheek. And by the way, that's not sideburns that's a scar I have from a long time ago.
-Initial Result-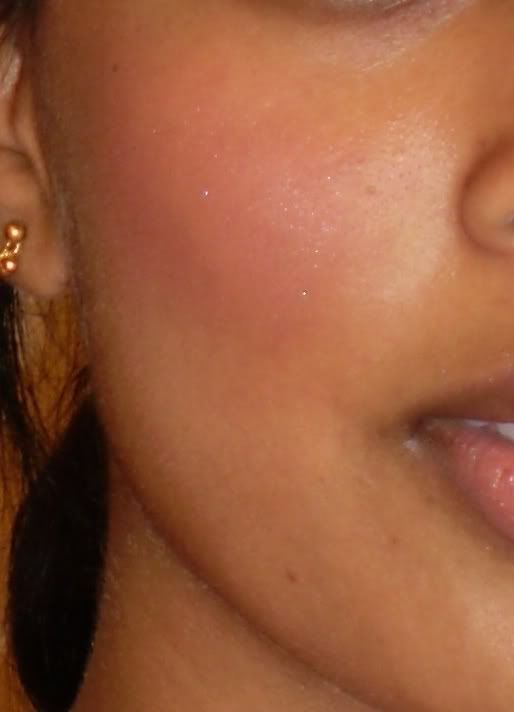 This is the result from my initial blush application. It's too dramatic for the subtle look I'm going for so I prefer to buff the blush out a bit. However, I sometimes like slightly heavier blush and I stop after Step 5.
Step 6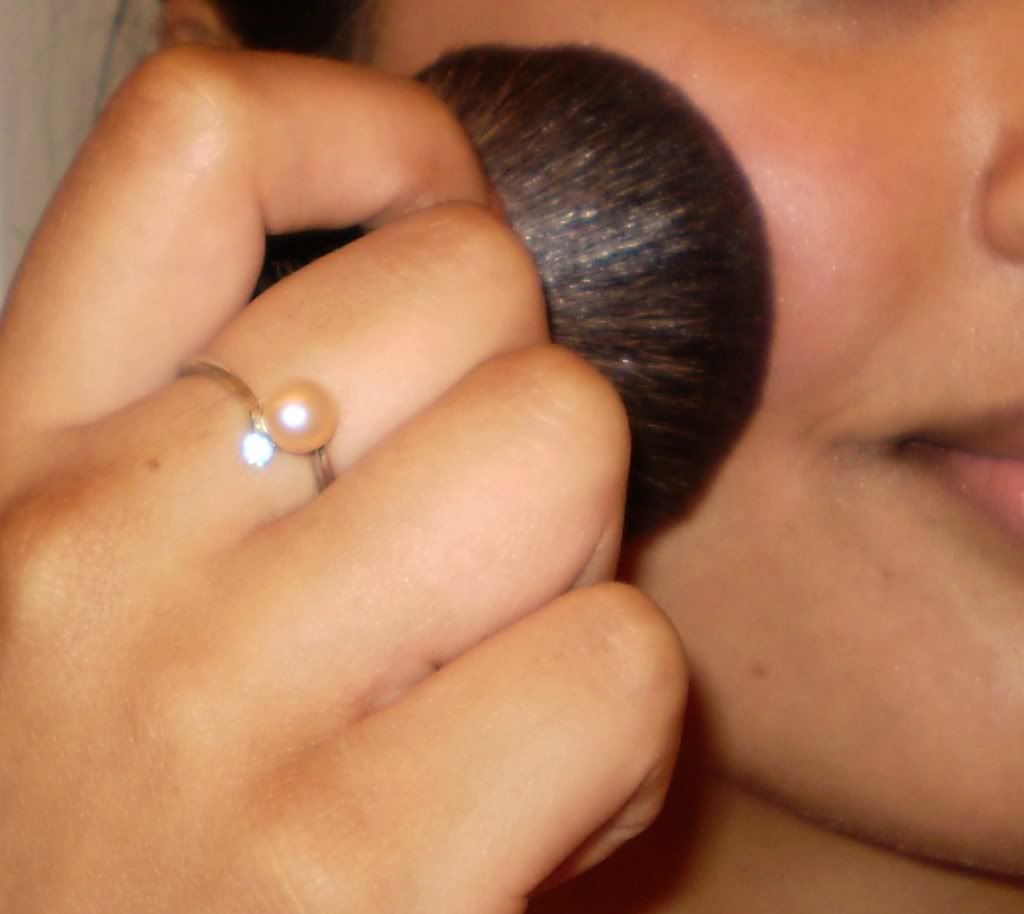 With a kabuki brush, I buffed the entire area where I had applied the blush.
-Final Result-
This is what I end up with when I want a subtle pop of color that brightens my skin and makes me look awake. Of course, depending on your application you can make the final result more dramatic or more subtle.