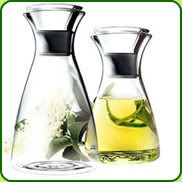 The website is taking too long and it's turning out to be such a pain, so figured I'd just route my blog to my domain. This will be done shortly. I am just going to bring you the information I had on the website over here. Makes life simpler. So while I keep you waiting just another 16 hours or so until I bring you more information, enjoy this bath oil recipe.
I have tried this bath oil a few times and I really liked it. The genius wasn't me but it was Suparna Trikha's Book of Natural Skin Care. As I've stated before, she has some great tips and natural recipes.
Ingredients:
4 tsp peppermint oil

the juice of 2 lemons. I used to either squeeze fresh lemons or the bottles with pre-squeezed lemon juice.

4 tsp almond oil

4 tsp geranium oil

2 tsp camphor
Method:
Just mix the ingredients together and add 1 tsp to your bath.
image source: www.mintindia.com