I regularly look at the online portfolios of make-up artists for inspiration and guidance. It's the make-up equivalent of going to the top of a hill in a storm, raising a lightning rod with your bare hands, and then finally being struck by lightning. One of the Indian make-up artists whose work is great to get ideas and make-up inspiration from is Clint Fernandes, whose online portfolio you can view here.

Shilpa was so sweet as to post links to his tutorials at www.indiwo.com and I figured what the hey, why not contact him. So I send him an email and didn't really expect much of it. I think it is Santa who ruined my psyche and made me this pessimistic (I used to write to him regularly and refused to believe he wasn't real, but that's another story altogether). Much to my surprise, I found a reply from Clint Fernandes in my inbox this morning. How awesome is that? Much better than Santa (seriously, all those handwritten letters, not a single reply).

So here are my questions and Clint Fernandes' corresponding answers:

Me: Finding out what products were used on Indian celebrities with varying skin tones seems to be a formidable task. What are some of your favourite products and colours for Indian skin.

Clint Fernandes: Revlon skin lights system works well with Indian skin tones. As well as the Bourjois Chocolate blush. In foundations I trust Chanel as it is colour adaptive and elastic.

Me: I was also wondering if you could tell me what products you used to achieve the following look on Lisa Ray.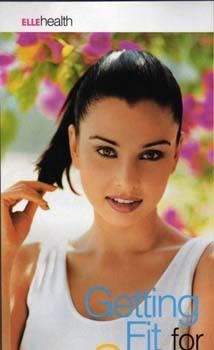 Clint

Fernandes

:
This image is very old maybe around 4 years or so... I did use MAC liquid Face and Body foundation along with
Shiseido
cream
concealor
. The blush would have been Chanel and for the eyes
Nars
matte taupe with lots of
Rimmel
Kohl and mascara.
I just checked out the products he mentioned and here they are:
I can't find them on Revlon.com so I'm not sure whether most drugstores carry them or not. However, I saw a bunch at Big Lots (great for make-up bargains by the way) and you can also order the
SkinLights
make-up online at places like www.drugsture.com.
I believe this is the bronzing powder by
Bourjois
. You can order it online at www.sephora.com or you could find it in the
Sephora
store itself. I am probably going to check this out soon. It looks yummy and edible.
A lot of department stores carry Chanel and you can order shades on various websites. I always believe that for foundations and
concealors
it is best to go to a counter so you can see the colour and try it out as some textures and ingredients might not work with your skin but be perfect for others. As for the blush, the
Irreelle
blushes are quite beautiful.
Mac Face and Body foundation

This seems to be a staple for a great many people. You can order this online at www.maccosmetics.com or other sites, or go to a counter at a department store.


I believe what Clint
Fernandes
was referring to was either
Nars
Bali or Blondie. I believe Blondie is slightly cooler in undertone and lighter as well. I don't quite remember which of the two is matte though.
I think he may be

referring

to the Corrective Cover

concealor

, which has been discontinued. However,

Shiseido's

The Makeup

Concealor

Stick is very similar in formulation.
images taken from: www.clintfernandes.com, www.sephora.com, www.maccosmetics.com, www.nordstrom.com