This is one of my favourite looks on Bipasha Basu. So here's a go at her make-up.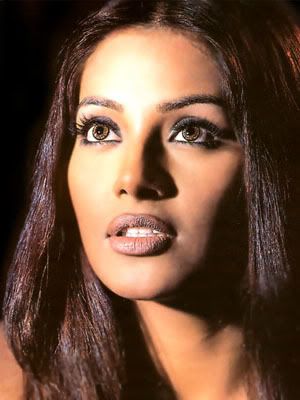 Prep:
Although the make-up is very dramatic and smokey, good skin will complement this look perfectly. Use a moisturizer and eye-cream suitable for your skin needs and allow it to skin in.

Face:
Apply a creamy, matte, medium-coverage foundation evenly all over the face and blend into the neck. You don't need to apply powder just yet.

Eyes:
The eye-make-up is very dramatic in this look, and if like me you have the problem of shadow always being muted by the colour of your eyelids, I suggest using a good primer to set the stage for the make-up to come.

Eyelid:
Apply a smokey charcoal grey from lash line to crease. Dot the same eye-shadow along the entire lower lash-line.

Highlight:
Apply a shimmery taupey-nude from the brow bone to the crease and blend it with the charcoal grey at the crease. With the same eye-shadow, apply a a dot to highlight the inner corner of your eyes.

Eyeliner:
With a rick black liquid liner, make a thin line along the upper and lower lash line. If you find this tricky, just place tiny dots as close to each other. Then, once you're done, even out any empty spaces between the dots.

Mascara:
Bipasha has a full strip of false lashes here. If you are comfortable with false lashes, you can apply a full strip as close to the lash line as possible. Apply one coat of a lengthening mascara to mesh your own lashes to the false lashes. Be sure to also apply mascara to the lower lashes. If you are not using any false lashes, curl your lashes and then apply a volumizing mascara generously on both upper and lower lashes. You can comb through your lashes to get rid of clumps. For added drama, you can add a few clumps of false lashes to the outer corners.

Cheeks:
It's hard to tell what she's wearing because of lighting, but it looks Bipasha is wearing dusty cinnamon coloured blush. Using a fluffy blush brush, apply the blush slightly above the cheekbones starting at the apple of the cheeks and decreasing intensity towards the temples.

Lips:
Apply a creamy mauve lip liner and top it off with a matching satin lipstick. I would recommend a liner along the lines of Bobbi Brown lip liner in Rum and Clinique Buttershine lipstick in Rum Kiss.

Setting Make-up:
Apply tranlucent powder with a large powder brush all over your face.