I thought some semi-retro glamour, in Bollywood terms, was in order and thought I'd do a breakdown of Madhuri Dixit. This clean and dramatic look is so soft and feminine to me.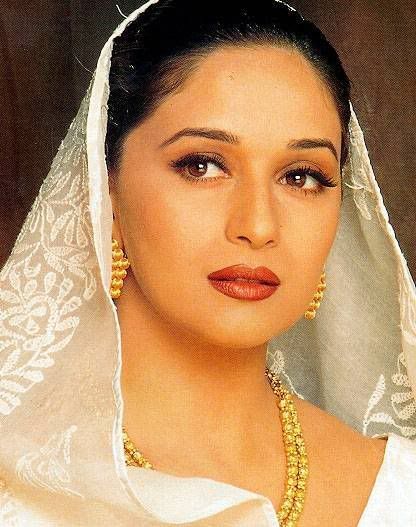 Prep:
This look requires you skin to look flawless (don't they all), and properly moisturized skin forms a great base for foundation. If necessary, use a gentle scrub to exfoliate before moisturizing or applying make-up.

Brows:
Eyebrows play a prominent role in this look. Pluck any stray hairs so that your eyebrows are neat and if necessary groom them with a spoolie brush.

Face:
With a make-up sponge or foundation brush, apply a satin finish foundation with the coverage you desire. You can sheer out your foundation by using a wet sponge to apply it. If necessary, cover up any problematic areas with concealer. The final step is to blend the foundation and concealer together and into the jawline, sides of your face, neck etc.

Eyes:
Although this look doesn't require intricate shading, a primer will help make the eyeshadow stand out and last as long as possible.

Eyelid:
Apply a matte, medium taupe-brown eyeshadow from lash line to slightly above the crease.

Highlight:
Apply a satin cream-coloured eyeshadow on the brow bone. Blend both the taupe-brown and highlight so that there are no harsh demarcations.

Liner:
With a steady hand, apply liquid liner starting from the inner corner. As you approach the outer corner, start thickening the line and stop at the end of the outer corner of the eye.

Mascara:
Dramatic lashes are essential to this look, so if you feel comfortable you can apply a full strip of false lashes as close to the lash line as possible. Apply one coat of a lengthening mascara to mesh your own lashes to the false lashes. Be sure to also apply mascara to the lower lashes. If you did not apply any false lashes, curl your lashes and then apply a volumizing mascara generously on both upper and lower lashes. Be careful that you don't get clumps when applying the mascara.

Blush:
Apply an orange toned blush on the apple of your cheeks with a very, very light hand. Extend the blush away from the apple of the cheeks with an ever lighter touch. I know an orange blush might seem frightening, but a blush such as NARS Taj Mahal could help you achieve a similar look with an incredibly light touch.

Lips:
Line lips with a warm red lip liner that has golden undertones. Finish off the look with a creamy, lipstick with a satin sheen in the same shade.