I am always happy to hear from readers, mainly because it proves that there is one soul out there actually reading my blog. I got the list of products used on Diya Mirza for this photo from Saniya, who, for this reason alone, is on my list of people whom I want to construct a lip gloss-like shrine to. All products used are from MAC and I added instructions below to take the guess-work out.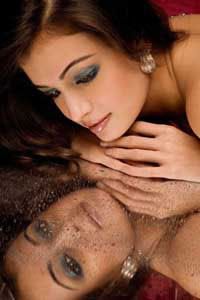 Products Used

Foundation and Concealer:
Studio Stick

Blush:
Coppertone powder blush

Eyeshadow:
Freshwater
Medowland

Eyeliner:
Not mentioned, but Diya seems to be wearing a soft black eyeliner.

Mascara:
Not mentioned, but a volumizing formula will give you thick lashes.

Lip Liner:
Plum

Lip Gloss:
Beaux
C-Thru

Prep:
This skin for this look is radiant and flawless. To get the best results when using foundation, use a moisturizer and an eye cream according to the needs of your skin.

Brows:
The brows for this look are very defined and neat so pluck any stray hairs so that your eyebrows.

Face:
With a make-up sponge or foundation brush, apply the foundation as evenly as possible. If necessary, cover up any problematic areas with concealer. Thoroughly blend the foundation into your skin

Eyes:
I am not going to break out of the mold this time and as always am going to recommend using a primer to make the colours last and stand out.

Eyelid:
This look doesn't have a crease and lid colour per se, but a blended mix of two colours. Apply Meadowland from lash line to slightly above the crease. Top it off with applying Freshwater over Meadowland and blend the two colours together.

Highlight:
Although there was no highlight colour mentioned, apply soft shimmery champagne coloured eyeshadow from crease to brow bone.

Liner:
This look requires a thin, soft line. With a soft black pencil, dot along the upper and lower lash line to create a thin but defined line around the eyes. With a q-tip, gently smudge the liner.

Mascara:
Curl your lashes to really open up your eyes and apply a volumizing mascara generously on upper and lower lashes. To get rid of clumps, comb through the lashes with a lash comb.

Blush:
Apply the Coppertone blush with a very light hand right under the cheekbones all the way to the temple, decreasing intensity as you go towards the temple. This look doesn't require intense blush, rather it is soft and natural looking.

Lips:
Line lips with the Plum lip liner. Apply the Beaux Lustreglass and the C-Thru to blend in both colours on the lips.