Clinique All About Eyes, Clinique Advanced Stop Signs Eye SPF 15, Clarins Eye Contour Gel, L'Oreal Eye Defense

A long time ago I was but an idealistic child who imagined that fairies roamed the earth and cosmetic companies told the truth. I believed them when they said that their creams would work miracles on my under-eyes and would lighten and brighten them. Like many other south Asian women, i have dark under-eyes that tend to scream at the world how tired I am if I miss even an hour of sleep. As it is highly unlikely that I will get the exact amount of sleep every night and dream of rosy-cheeked cherubs dancing and laughing, I have long forayed into the world of eye creams.

Clinique All About Eyes

This was my standard eye cream for the past five years. It is very moisturizing, but beware it can easily be too much and your under-eyes will become too greasy and your eye make-up will blend to darken your under-eyes. It does the job of moisturizing well but its claims that it will brighten my under-eyes have yet to be witnessed. I find this to be one of the more moisturizing eye creams that I have tried so far. It doesn't feel like silicone coating my skin and temporarily lulling me into the false pretense I used to have about the highly accurate claims of cosmetics companies. It sinks in very quickly if you apply the right amount, and trust me using more of the product will only make the product go away, not the under-eye woes. It is a great eye cream to start off with if you have never used one before as it is gentle and did not irritate my eyes at all.

Clinique Advanced Stop Signs Eye SPF 15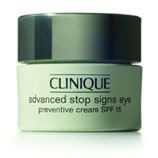 This is a decent eye cream that contains SPF and a slight iridescence. This is an added plus as it brightens the eye area and stops it from getting darker because of the sun. The cream is also relatively moisturizing but on the whole I wasn't satisfied with the amount of moisture it supplied my under-eyes. It also burned slightly when I accidentally got some product in my eye. I have very sensitive eyes and for a good twenty minutes looked like I was a heroine in a desi soap-opera who was crying because her mother-in-law had just found out that my neighbour's son was blackmailing me with a note I had passed to my friend when I was 17. All in all, not a desirable effect an eye cream should have. I also found that the whitish shimmer didn't do much to optically brighten my under-eyes.

*Both images taken from clinique.com

Clarins Eye Contour Gel

This was one of the first eye creams I tried to lighten my under-eyes. I can still remember the feverish excitement when I tore up the cardboard packaging while exiting the store. It claims to minimize puffiness and dark circles but in the end I really didn't see much difference than before using the cream. It is a light-weight gel that glides on smoothly and sinks in relatively fast. Thankfully it doesn't have the tendency to get as greasy as other eye-creams, and I never felt like my under-eyes were lacking moisture. The gel is very gentle and did not irritate my eyes, even though my eyes are very sensitive. I do feel that any given eye cream could do the same job as this one as I didn't see any noticeable difference in the tone of my under-eyes.

*Image taken from clinique.com

L'oreal Eye Defense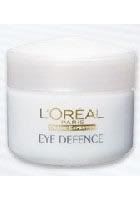 This is a light eye cream that also claims to reduce puffiness and dark circles (do you see a pattern?). It does an adequate job of moisturizing but I would not recommend it if you need extra moisture or have particularly dry under-eyes. In its defense it is gentle enough that it didn't irritate my eyes and is a basic eye cream that will suffice if you are not looking for a miracle. The cream did not miraculously erase my dark circles but it is a good alternative to more expensive eye creams of the same calibre.

*Image taken from L'oreal.com

I would like to add a note here. Fear not! I will add my thoughts on the many, many other eye creams I have tried soon.